5 reasons why at-home blood sample collection is the new normal
by Neoteryx Microsampling on Aug 10, 2020 9:48:19 AM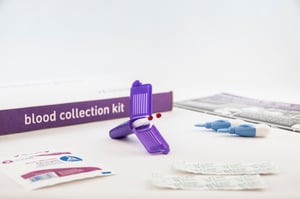 The number of people going to labs for blood draws and blood tests has reduced in the wake of the SARS-CoV-2 pandemic. As a result, more patients are opting for at-home blood sample collection. Many patients are postponing routine tests and medical care to minimize the spread of the coronavirus. Some labs are reporting as much as a 40% decline in phlebotomy appointments and blood test volumes. Quest Diagnostics, for example, reported a notable decline in test volumes in the last two weeks of March 2020.
These changes have caused health institutions to adopt new practices and technologies that enable patients to perform their own blood collection or self-tests while safe at home. More care providers are using telehealth, a virtual mode of healthcare that supports virtual interactions with patients during the coronavirus pandemic to help reduce disease exposure. A survey of physicians conducted in April 2020 found that up to 85% of participants were seeing patients via phone and video. The survey also showed that 77% of the participating physicians supported the transition to telemedicine.
It is this drive to interact with patients and clinical trial participants while they are safe at home that has increased the demand for remote blood collection and testing. Some labs are going with the remote trend, while others are slow to adopt methods that would enable testing of remote blood samples. However, with the pandemic showing no signs of decline, remote blood collection and testing might be the new normal.
For those still not convinced, these 5 advantages explain why remote blood collection is a popular option:
1. Access
With remote blood collection, patients living far from metro centers don't have to travel to health facilities for blood draws. Telehealth technologies, such as wireless heart monitors and remote devices, enable physicians to conduct remote patient monitoring and order blood tests that can be conducted on patient-collected samples. What's more, patients have more – not less – access to their doctors via email and video chat platforms like GoToMeeting, Zoom, and others.
2. Comfort
The Mitra® microsampler uses patented volumetric absorptive microsampling (VAMS®) technology, which involves collecting small, volumetrically accurate blood samples on the absorbent tip of the device. The method improves the patient experience, because it's easier to use than other self-sampling devices and is less painful and stressful than venipuncture blood draws. Patients can collect precise samples of blood at home, minimizing the number of visits needed for healthcare follow ups, such as therapeutic drug monitoring.
3. Convenience
Even after the pandemic, clinical trials will be an essential part of research. Remote sampling provides a convenient way of collecting samples from trial volunteers that cannot visit the trial center.
The National Institutes of Health (NIH) is currently using the Mitra microsampler and Mitra Blood Collection Kits for COVID-19 clinical trials. Participants call the NIH to request the remote sampling kit, which can be shipped out to them at home. Participants mail their blood samples back to NIH for analysis in the lab. NIH then uses the data for SARS-CoV-2 studies, in particular, to determine the number of undetected cases of COVID-19 among the United States population.
4. Safety
Remote blood collection promotes safety for both patients and healthcare providers. Patients don't need to visit a clinic for blood collection or testing. Instead, collection kits are mailed to the patient for blood collection. Patients mail their samples in the provided envelope to the lab for testing.
The patient-centric blood collection approach is rapidly replacing traditional blood draws. A small number of healthcare organizations are still sending phlebotomists to patients' homes to provide mobile lab services, when needed, but this practice carries some safety risks. Companies like Neoteryx are providing simple at-home blood collection kits with the Mitra microsampling device to help reduce the risk of exposure for patients and health workers.
5. Viability
With patients avoiding in-person blood draws and lab tests, many physician's offices, clinics and labs have been forced to transition their staff to part-time hours or lay off employees, reduce salaries, and suspend 410(k)-matching. The coronavirus pandemic is negatively impacting the viability of many healthcare organizations that can't adapt rapidly to telehealth and the technologies that support it.
When clinics, labs and other healthcare organizations can transition to remote blood collection and testing options, they don't need to take such drastic business measures. Physicians embracing telehealth in today's environment still need labs and personnel that can process remote specimen samples. When shifting to the use of remote sample collection devices like the Mitra microsampler, personnel can get guidance from Neoteryx on methodology and how to set up for an efficient Mitra microsampling process.

Receive Blog Notifications