microsampling in infectious disease studies
Frequently Asked Questions (FAQs)
How have microsampling devices with volumetric technology been used in infectious disease studies?
Mitra® devices based on VAMS® technology and hemaPEN® devices have been used in serology studies of infectious diseases including SARS-CoV-2 and Influenza, among others. During the COVID-19 Pandemic, remote microsampling devices have been deployed to study populations across many geographical areas. Thousands of people have used our devices to collect blood samples at home for bioanalysis in labs at the National Institutes of Health (NIH), LGC Group, Stanford University, Harvard, University of Rochester, and other organizations globally to help increase the science community's understanding of antibodies and immunity against viral pathogens.
Have serology studies been successful using microsampling devices?
Since the beginning of the COVID-19 Pandemic, researchers from many organizations have published articles on successful serology studies of SARS-CoV-2 using microsampling devices.
Research provided in our Technical Resource Library illustrates:
> 99% Mitra sampling success rate in studies with thousands of remote participants
Assays compatible with Mitra samples with 100% sensitivity and 100% specificity with high confidence intervals
Ability to detect IgG, IgM, IgA and neutralizing antibodies from dried blood microsamples
Immunoassay methodology for Roche Elecsys®, Luminex, Quanterix Simoa®, and more
Access our Resource Library for these details plus insight into cytokines and a multiplex assay that uses microsampling to simultaneously measure >30 strains of influenza.
Which analytes have been extracted and validated using volumetric microsampling?
Many analytes can be extracted using volumetric microsampling, and are compatible with hemaPEN® and Mitra® devices with VAMS® technology. Some of the literature and resources on our website discuss different analytes that have been extracted with our microsampling devices. Type your analyte of interest in our Technical Resource Library search field to find the information you seek.
What are the sample success rates for remote microsampling devices?
Sample success rates are high for Mitra® and hemaPEN® devices, which are based on volumetric microsampling. The absorptive VAMS® tips on Mitra can absorb homogenous samples with 99% acceptance rates. By following the illustrated instructions and demo videos available with hemaPEN and Mitra, non-professional users can reliably collect fixed volume samples that are precise enough for lab analysis.

These volumetric microsampling devices overcome the hematocrit (HCT) bias that may occur with DBS cards, where non-homogenous blood spots on filter paper have higher variability and higher failure rates.
Does dried capillary blood compare to serum or other blood sources?
Published research papers show that dried capillary whole blood microsamples collected in 10, 20, or 30 µL volumes are enough for good extraction and analysis. These samples also yield high-quality data that are similar to data from venous blood. Studies have shown very high correlations of Mitra samples to plasma/serum samples nucleocapsid (R2 = 0.9957), RBD (R2 = 0.9929), & spike (R2 = 0.9918) proteins.
The literature provides case examples of microsampling in research applications. Visit the Technical Resource Library to review many comparative studies that describe what others have achieved with microsampling in their research.
How long will it take to implement microsampling technology?
The process of transitioning to microsampling takes about 6-8 months and is divided into three phases, with ongoing technical support from the Neoteryx Microsampling Team:
Education:

[1 - 2 weeks] The introductory phase
Evaluation:

[4 - 6 weeks] Extraction, linearity & signal-to-noise studies
Validation:

[6 - 8 months] Validating your method
See our Microsampling User Guide for details.
Back to top
Which analytes can you extract from dried blood microsamples?
To find out, download our List of Compatible Analytes!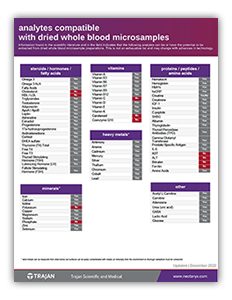 Specific proteins, vitamins, minerals, heavy metals, hormones and other analytes are included in our list. Fill out the form to download the PDF and as a bonus you will also gain access to our technical resource library of published journal articles and resources from your peers who are leveraging microsampling.
Complete Form to Download
innovate your approach to science and research
Advancing to Microsampling Begins With a Conversation.