hemaPEN
hemaPEN® is an easy-to-use microsampling device that collects 4 volumetrically identical capillary samples from a single finger-stick. Click it shut & 4 DBS samples are locked inside until lab processing.
Indications for Use: Enables collection of 4 blood samples by a healthcare professional for shipment to an accredited laboratory for analysis.
volumetric accuracy + sample integrity + convenience = hemaPEN
The hemaPEN® offers a unique approach to capillary sampling with its 4 integrated capillary tubes within the device for easier handling. The glass capillaries simultaneously draw 4 samples from a single finger-stick, transferring 4 blood spots onto a DBS cartridge inside the hemaPEN.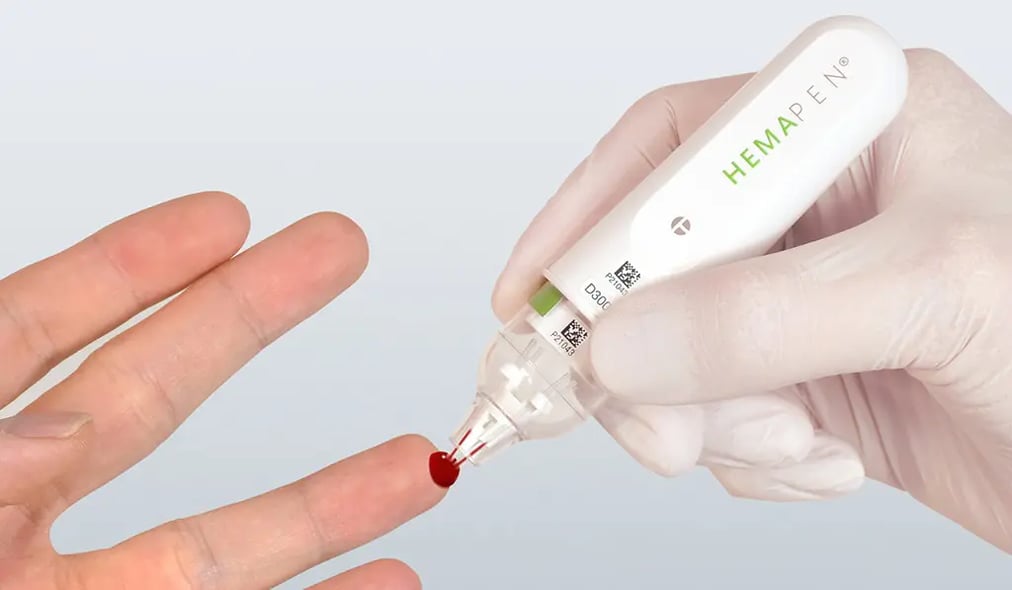 End-users like the intuitive pen-like design of hemaPEN® and the fact that a single finger-stick is all they need to rapidly collect four microsamples.
The hemaPEN collects a sample from any angle, so it is nearly impossible to under- or over-sample. This benefits end-users with limited mobility. Offer hemaPEN to remote study cohorts for sampling with ease – anywhere, anytime.
The hemaPEN is a one-time use, low-volume sampling device.



4 x 2.74 µL DBS samples = 10.96 µL


Minimally invasive method


Easy to use for a variety of cohorts


Sample collection from any angle


Barcoding to manage chain of custody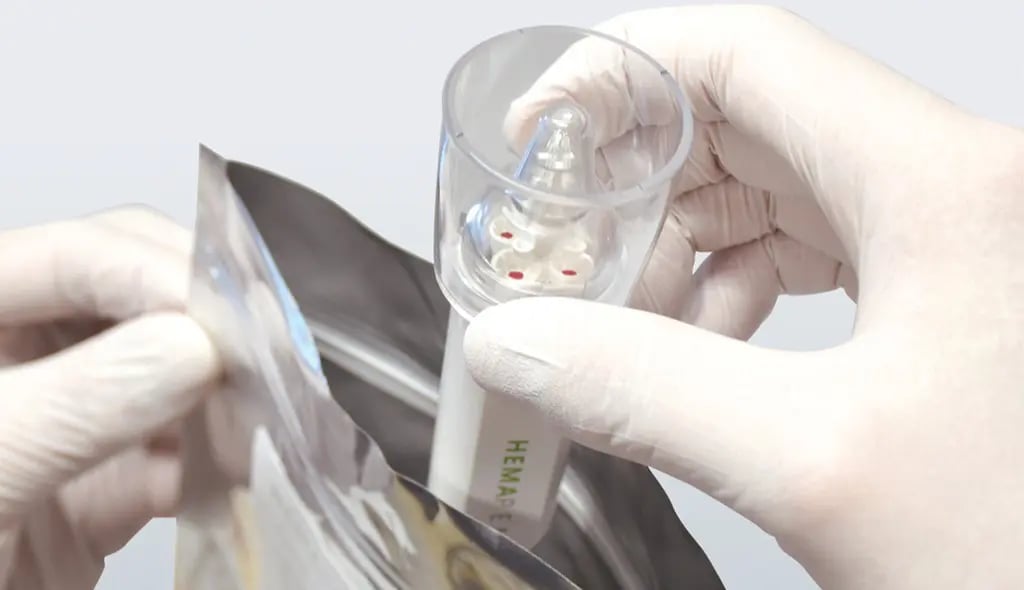 Easy to Secure, Store & Transport
The hemaPEN® ensures sample security, making it suitable for anti-doping in sports or other programs where sample tampering is a concern.
After end-users collect the samples, they place the point of the hemaPEN into its plastic base and push down until they hear a "click." That locks the hemaPEN shut and also transfers the 4 capillary samples onto 4 pre-punched DBS papers inside.
Re-seal hemaPEN in its specimen bag & ship to the lab. Internal desiccant keeps the samples dry during storage and transport.



Protective, tamper-resistant casing


Specimen bag + desiccant for transport


No cold-shipping...microsamples dry in transit


Barcoding to manage chain of custody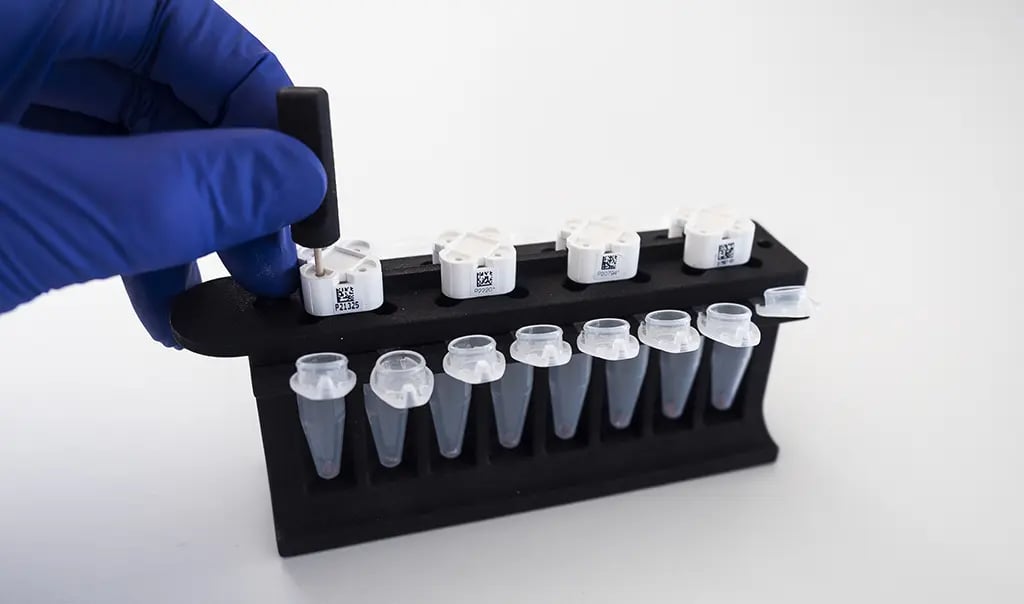 Labs set up for a DBS workflow should find it easy to adopt hemaPEN microsampling methods.
A benefit of hemaPEN over traditional DBS cards is that the aliquoting & hole-punching steps are eliminated. This is because the 4 DBS samples in the hemaPEN are collected onto 4 pre-punched, industry-standard DBS filter papers within.
The hemaPEN is suited for both manual & automated DBS processing workflows. Lab tools available include the hemaPEN
®
Opening Tool, hemaPEN
®
-QC, hemaPEN
®
Tube Accessioning Tool & hemaPEN
®
96-Rack Adaptor.

Compatible with standard DBS workflows

Tools available for hemaPEN workflows

High-throughput using 96 well-plates

Process manually using tubes

Leverage standard DBS substrates

Generate accurate quantitative data
how to collect 4 microsamples at once
Watch our video to learn how to simultaneously collect 4 identical DBS samples for accurate lab analysis.
hemaPEN in the Lab
Process Multiple DBS Samples at Once
To help labs process and analyze DBS microsamples manually or in high-throughput we offer the hemaPEN opening tool & hemaPEN-QC.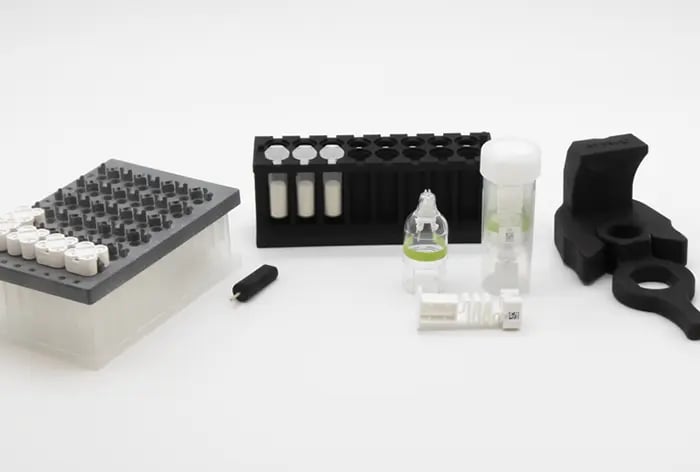 Looking for more hemaPEN resources?
Fill out the form below to download technical resources, including app notes, brochures and spec sheets and to access our Technical Resource Library featuring third-party publications describing how others apply microsampling.







innovate your approach to science and research
Advancing to Microsampling Begins With a Conversation.
other microsampling products
Not sure if hemaPEN® is right for your project? Explore our other microsampling products.