microsampling for precision
Frequently Asked Questions (FAQs)
Have microsampling devices with volumetric technology been used in real-world studies?
Yes, our microsampling technologies have been used in many research studies, clinical trials and therapeutic drug monitoring (TDM) programs around the world. Our Technical Resource Library includes a searchable selection of published literature discussing studies and trials that applied remote specimen collection and volumetric microsampling. Type your analyte of interest in the library's search field to find journal articles, presentations and application notes from third-party experts.
Which analytes have been extracted and validated using volumetric microsampling?
Many analytes can be extracted using our volumetric microsampling technologies, such as the hemaPEN® and Mitra® devices with VAMS®. These technologies have been demonstrated to be compatible with testing schema in published studies. Some of the literature and resources on our website discuss the different analytes that have been extracted using our microsampling devices. Visit our Technical Resource Library and type your analyte of interest in the library's search field to find relevant literature and case examples.
What are the sample success rates for remote microsampling devices?
Sample success rates will depend on the type of testing performed in a lab. Published validation studies demonstrate that our microsampling devices have precise volumetric sampling capacities, which have been shown to overcome the HCT that is often observed with DBS. Some studies show that the absorptive VAMS® tips on Mitra devices can absorb homogenous samples with 99% acceptance rates. By following the illustrated instructions and demo videos available with hemaPEN and Mitra, end-users can reliably collect fixed volume samples that are precise enough for lab analysis.
How does dried capillary blood compare to other blood sources?
Dried blood sampling continues to expand as laboratories adapt their testing techniques and technological advances allow for greater sensitivity and specificity. Published research papers show that dried capillary whole blood microsamples collected in 10, 20, or 30 µL volumes are enough for good extraction and analysis. These samples also yield high-quality data that are often similar to data from venous blood. The literature provides case examples of microsampling in research applications. Visit the Technical Resource Library to review many comparative studies that describe what others have achieved with microsampling in their research.
What steps are needed to implement microsampling technology?
The first step in transitioning from other sampling methods to microsampling is an introductory, initial education phase, which may take about 4 weeks. The next steps involve evaluation and validation. The Neoteryx Microsampling Team and Technical Director can provide support through all the steps:
Education: The introductory phase

Evaluation: Extraction, linearity & signal-to-noise studies

Validation: Validating your method
See our Microsampling User Guide for details.
Can microsamples be used to run a standard health panel (CMP+UA+LP+TSH) & CBC?
While we are exploring this capability as a future advance in the microsampling industry, traditional wet blood samples and conventional phlebotomy are still used for most standard health panels and the complete blood count (CBC).
Back to top
Which analytes can you extract from dried blood microsamples?
To find out, download our List of Compatible Analytes!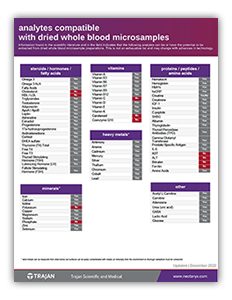 Specific proteins, vitamins, minerals, heavy metals, hormones and other analytes are included in our list. Fill out the form to download the PDF and as a bonus you will also gain access to our technical resource library of published journal articles and resources from your peers who are leveraging microsampling.
Complete Form to Download
innovate your approach to science and research
Advancing to Microsampling Begins With a Conversation.