the enormous power of remote specimen collection
by Neoteryx Microsampling on Oct 26, 2020 9:00:00 AM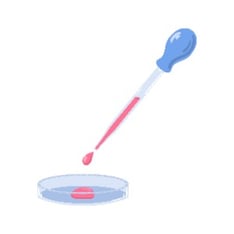 With advances in healthcare and research, you no longer need to visit the lab for blood draws. Many health and wellness organizations are now providing home health testing kits that enable patients to collect their blood samples and mail them to a lab for processing and analysis. The development of remote blood collection devices has made it possible for patients to easily collect their own blood samples at home for accurate lab testing.
One remote specimen collection technique involves the use of a Mitra® microsampling device, which is based on volumetric absorptive microsampling, or VAMS®. This technology allows anyone to use the finger-stick method (with a lancet) and a Mitra device to collect a fixed volume of 10, 20 or 30 uL (approximately 1-3 drops of blood) of capillary blood from a fingertip for analysis. And the good news is, capillary blood samples collected using VAMS technology have less than 5% volumetric variation across an HCT range of 20-70%. This technology often eliminates the need for venous blood collection through conventional phlebotomy blood draws. Instead, patient-managed blood collection at home using a finger-prick method provides important and actionable information for researchers and clinicians.
Here are eight ways that experts in different industries use blood microsamples in their work:



1. Gather Clinical Research Data
Pharmaceutical companies can use capillary blood samples collected via the finger-prick method to perform pre-clinical research and clinical drug trials. Researchers can use the blood microsamples to gather pharmacokinetic data for research and to develop therapeutic drugs.
2. Monitor Patients Remotely
Physicians and other health practitioners have found the finger-prick blood collection method reliable for remote patient monitoring. The healthcare facility sends a testing kit containing Mitra microsamplers to patients for at-home sample collection. Patients undergoing therapeutic drug monitoring and other medical treatment requiring regular monitoring can mail their blood samples directly to the labs. This approach eliminates frequent visits to the hospital or clinic during treatment.
3. Determine Toxicity of Medications
Many antibiotics and other medications require therapeutic drug monitoring to guard against toxicity or negative side effects, and to ensure optimal treatment. The antibiotic vancomycin, for example, is used in children who have serious meningitis and bacteremia infections. Vancomycin has a narrow therapeutic index and demonstrates AUC-dependent efficacy as well as nephrotoxicity. Doctors must perform therapeutic drug monitoring to determine drug concentration levels in a person's system and then adjust dosing to maximize therapeutic efficacy and reduce drug toxicity. Remote blood microsampling enables children and their families to conveniently and safely manage sample collection at specific timepoints as required by the care team.
4. Measure Antibodies Against Viruses
Home health kits that include the Mitra microsampler enable easy, precise blood collection for reliable antibody testing. The Mitra is designed for dried blood sampling, and involves sample drying before lab analysis. Sample drying effectively stops or slows the chemical degradation process of blood. Compared to fluid blood samples, this provides extended stability. This characteristic makes dried microsampling ideal for analyzing blood for the presence of antibodies against the SARS-CoV-2 virus.
5. Determine DNA and RNA
A tiny spot of blood can be used to determine a person's DNA and RNA. DNA in a drop of blood can provide an individual unique profile and also determine a person's genetic origins. The RNA in a blood microsample can be used to identify genetic diseases and, possibly, predict the conditions earlier. Earlier identification of diseases would allow for earlier intervention, before any symptoms manifest.
6. Identify Biomarkers for Improved Health and Nutrition
Biomarkers need to be easy to transport, obtain, and analyze. Capillary blood sampled from a fingertip meets this need and can be collected remotely with high response rates. The samples can be analyzed for a variety of analytes including C-reactive protein, cholesterol, glycosylated hemoglobin, cytokines, and more. Physicians and nutritionists can use this kind of information to advise patients on how to improve their health.
7. Detect Steroid Use in Athletes
Historically, urine samples have always been used to identify the presence of anabolic steroids and other illegal substances in athletes. However, urine samples need immediate analysis or refrigeration for later analysis. New blood collection and analysis techniques like Mitra with VAMS are making portable sample collection for lab analysis much easier. Mitra devices can be used remotely and don't require refrigeration. The blood samples dry directly on the device for analysis as a dried blood sample. Volumetric absorptive microsampling is ideal for fast and easy sampling out in the field.
8. Detect Livestock Diseases Earlier
Veterinarians can use Mitra with VAMS to collect small blood samples from farm animals to help detect diseases before they impact an entire herd. Previously, blood samples collected by veterinary professionals needed careful handling during transportation to labs for analysis. The timeframe of transport, lab analysis, results, and diagnosis could take weeks or months. With the development of devices like the Mitra microsampler, samples don't need special storage or transportation. In fact, the farmers can take samples from their animals themselves, and send them to the veterinary lab for analysis to identify diseases in advance.

No Comments Yet
Let us know what you think
Receive Blog Notifications