call to adventure: an interview with joe doherty of hsx antarctica
by Neoteryx on Mar 8, 2019 3:12:00 AM
Throughout our history, Neoteryx has been fueled by an appetite for risk and discovery. Our founder Fasha Mahjoor ended a successful 35-year stint at the helm of Phenomenex to bet it all on a blood collection breakthrough. Our flagship device, the Mitra® microsampler, sprang from a key insight, a lot of determination, and the courage to transform a few resources into technology that's changing the face of healthcare. And we're proud to support other organizations that do their own vital work in the same pioneering spirit.

In November 2018, the HSX Antarctica team, led by Hampshire Scout and Outward Bound Learning Adventure Manager Joe Doherty, pulled off an unprecedented feat of exploration, becoming the first such group to ski to the South Pole and return using wind power. Neoteryx sponsored the journey, followed its progress through social media, and debriefed with Doherty upon his safe return home.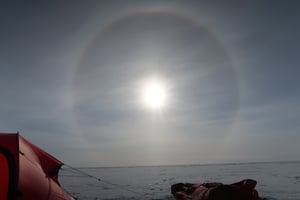 "It's a beautiful but deadly place," says Doherty of Antarctica. "It's peaceful, clean, majestic, and has some incredible phenomena. It's untouched by humans and it can't be tamed by humans. It will try and show you its best parts, but it will try and kill you at any given moment. Only fools believe it can be conquered, and they often end up with serious injuries or worse."

Among the unique physical threats Doherty discovered on the earth's most mysterious land mass, the weirdest and most perturbing was a condition known as polar thigh. "It's not a frostbite type of injury, but it is a cold injury. The problem is caused by the wind hitting your thighs in an area that is quite fatty and you can't feel easily that it is cold, compared to your hands, for example. The wind constantly hits this area and causes the skin to crack and weep. A down skirt is what I wore to combat, but it still wasn't enough, so I had this ailment from Day 10 until Day 61, and I still have scars from it now."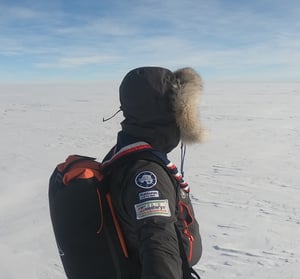 But the worst demon he had to fight off, says Doherty, was laziness, which can plague even the most intrepid souls among us. "Laziness stops you putting on the gloves you should have put on five minutes ago. Now you have frostbite on your fingers. Laziness stops you properly pitching your tent, and you subsequently lose it in a storm. You get the picture. Being proactive, stopping, and doing what needs to be done the first time stops you from being hurt. It not only means you survive, but you can actually perform in any challenging environment!"

Like any great challenge, Antarctica demands respect. As Doherty learned to respect it, he also grew to love and revere it. "It will make you learn who you truly are and for that, I am forever grateful."

At Neoteryx, we believe in working together with other like minds and stout hearts to solve old problems and do new things in new ways. We've allowed organ transplant patients to perform therapeutic drug monitoring on the way up Mt. Kilimanjaro. We've brought state-of-the-art blood collection methods to children in Liberia and Côte d'Ivoire. And we bring the same tenacity to projects in patient monitoring, clinical trials, health and wellness, and more.
Reach out to a Microsampling Specialist to get started on your own healthcare adventure.
No Comments Yet
Let us know what you think
Receive Blog Notifications