Ghent University Scientists Use VAMS to Measure a Novel Biomarker for Alcohol Abuse
by Neoteryx, on March 21,2019
Dried blood samples can replace urine and hair monitoring for measuring more specific distinctions in alcohol consumption.
TORRANCE, California – Neoteryx LLC is supplying its Volumetric Absorptive Microsampling (VAMS™) technology, in the form of the Mitra® microsampling device, to Dr. Christophe Stove, PhD, and his team at Ghent University in Belgium, for an important study of alcohol use. The study measures phosphatidylethanol (PEth), a direct alcohol marker present in the blood in proportion to the amount of alcohol one has used in the previous month. Compared to other biomarkers, PEth allows for finer gradations in distinguishing teetotalers, social drinkers, and heavy or excessive drinkers. The study has important implications for organ transplants, driver's license regranting, and other areas in which responsible alcohol use matters.
Neoteryx's Mitra Microsampler Specimen Collection Device requires minimal training to use effectively. Participants in the study were able to use sample-at-home kits to perform their own blood draws and specific time points across the month of February. Using remote microsampling methods, Dr. Stove found it unexpectedly easy to recruit the large number of regular drinkers he needed to agree to abstain for a month and collect their own samples, unsupervised, outside the clinic.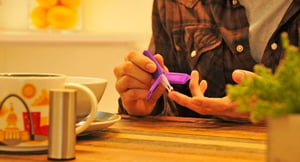 Without VAMS, "there's no way that we would be able to recruit 800 patients that would all need to come at three time points in one month for a blood draw. That's huge. The recruitment of the patients definitely would not have been so easy. With VAMS, we could just communicate that they don't need to come out of their homes. We send the kits via regular mail and instruct them to sample themselves."
The benefits of finger-prick capillary blood collection aren't just for patients. "We have collaborated with centers that do follow-up for people who need to get their driver's licenses back," Stove said. "We proposed, 'Would you consider a finger prick as a possibility?' And immediately they were quite enthusiastic about it. They considered that more feasible because they could do that without the requirement of medically trained staff."
"We have worked with Dr Stove many times in the past, including in his study of HbA1c in pediatric patients with diabetes, and we are thrilled that his team has elected to use our specimen collection and transportation technology to streamline this important study of PEth," said Fasha Mahjoor, Neoteryx CEO. "Our dry blood sampling technology is an easier and more versatile method of testing for alcohol biomarkers compared to older methods with hair or urine. This study will reveal imperative information for clinics, governments, and individuals who choose to drink alcohol, or not to. It also opens exciting frontiers for similar projects in the very near future."
Dr. Stove and his team are currently determining the results of the study. "The vast majority of the samples that we got back look good from a technical perspective," Stove says. "We are busy with the analysis of these thousands of samples that we got back. In the next few months, we'll finish those analyses, and then we'll come out with the actual outcome of the study."
About Neoteryx:
Neoteryx LLC, based in Southern California, is focused on delivering simple, quantitative and automatable microsampling solutions for biological samples. Our class I exempt medical device, The Mitra Microsampler facilitates convenient specimen collection and transportation of blood and other biological fluids to improve animal and patient welfare, reduce laboratory costs and enable new models of care. Neoteryx's customers work to advance pharmaceutical development, personalized medicine, biotechnology research and clinical diagnostics. For more information on Neoteryx, visit www.neoteryx.com or follow @neoteryx on Twitter.
The Mitra Microsampler class I medical device is for direct specimen collection and transportation of blood and other biological fluids. It is not specific to any clinical test and is not for use in diagnostic procedures. Use of the Mitra Microsampler in Laboratory Developed Tests (LDTs) requires further processing including the establishment of performance characteristics and successful validation by the laboratory in a manner consistent with CLIA requirements.