University of Rochester Examines Blood to Detect COVID-19 Antibodies
by Neoteryx Microsampling on April 27,2020
ROCHESTER, NY — Researchers around the globe are racing to respond to the COVID-19 pandemic. At the University of Rochester in the Clinical and Translational Science Institute (CTSI), researcher and co-director Martin Zand, MD, PhD, is pivoting quickly to meet new demands stemming from the coronavirus crisis. Dr. Zand has rapidly adapted previous research in his lab to develop a potential diagnostic test of COVID-19 that would require just a few drops of blood.
Dr. Zand's current research is an iteration of a past UR CTSI pilot project in which his lab utilized the Mitra Blood Collection Kit from Neoteryx to study influenza, or flu virus. The Mitra kit uses a finger-stick method to collect just a few drops of blood onto absorbent tips of the Mitra device. The Mitra tips use a patented volumetrically absorptive microsampling (VAMS) technology that Dr. Zand previously used to detect immunity to over 50 strains of the flu from just a few drops of blood.
The finger-stick blood collection using a Mitra kit can be performed remotely by anyone. There is no need for a blood draw in a clinic or a professional healthcare worker to assist. The finger-stick tool is similar to the one patients use at home to test blood sugar for diabetes. The kits from Neoteryx that Dr. Zand and his team are using for their COVID-19 studies come in a box with detailed instructions, a small lancet, and Mitra with VAMS blood collection tips in an easy-to-mail case.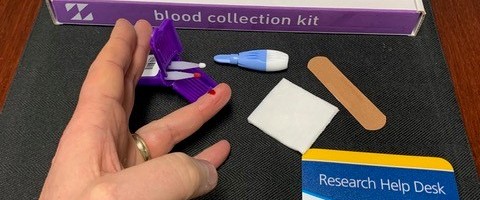 At-home Mitra® Blood Collection Kits from Neoteryx are being used for UR CTSI's coronavirus research study.

Photo Credit: UR CTSI
Currently validated for use in research, the Mitra with VAMS kits allow clinical study volunteers to collect their own blood samples at home and mail them to the lab. This remote option for submitting blood samples reduces a participant's exposure to the novel coronavirus, and also reduces time and travel, which is extremely convenient regardless of global pandemics.
As Zand's lab adapts rapidly to use the blood collection kits to detect immunity to COVID-19, they hope the precise samples they are collecting could also offer a reliable way to test immune responses to experimental vaccines against SARS-CoV-2.
"We're hoping this could make coronavirus research - especially vaccine trials - faster and more convenient for those who volunteer for them," said Zand in a recent press release from UR-CTSI. "Hopefully, that will allow us to enroll many, many more people and get more and better information," added Zand, who is also senior associate dean for Clinical Research at the University of Rochester Medical Center.
The blood samples that study participants are collecting at home will be mailed to Dr. Zand's lab. Once his lab receives the samples, his team can glean an astounding amount of information from the dried drops of blood on the Mitra tips. In each sample, the researchers will look for antibodies (a critical indicator of immune response) against the virus that causes COVID-19 (SARS-CoV-2).
Serology studies like this will help scientists understand whether prior exposure to this and other coronaviruses might protect some people from developing a COVID-19 infection. This information could help explain why some people have had very mild COVID-19 infections--some with no symptoms at all. The blood samples might also tell us whether SARS-CoV-2 can hijack antibodies and make the patient (host) sicker, instead of helping them fight off the virus.
That hijacking process, which is called "antibody-dependent enhancement," sometimes happens in viral infections similar to COVID-19. This has been seen in viruses like SARS and MERS, as well as in Zika and Dengue. This phenomenon can make it more difficult to develop vaccines against a virus. Gathering this information is critical in the development of a vaccine that will be effective against COVID-19. (See Zand's recent article on this topic in the Journal of Clinical and Translational Science.)
Dr. Zand is seeking funding for his lab's coronavirus research, and his goal is to eventually test 1,000 people in Rochester and beyond (pending a collaboration with an Italian research group). The project would focus on testing healthcare workers who are on the front lines, people who tested positive for COVID-19, and those who had symptoms, but were never tested.
"Ultimately, if we can get this validated and approved by the FDA," Zand said, "it would be an inexpensive and easy way to monitor who is immune to COVID-19, so we can get people back to work safely."
Learn more about other coronavirus diagnostic and sensor technologies at the University of Rochester. Learn more about the Mitra microsampling technology from Neoteryx.
###
The UR CTSI pilot study described above was supported by the University of Rochester CTSA award (UL1 TR000042) from the National Center for Advancing Translational Sciences of the National Institutes of Health. UR CTSI Pilot Awards provide seed funding for highly innovative research that spans the translational spectrum.
Source:
https://www.urmc.rochester.edu/clinical-translational-science-institute/stories/april-2020/just-a-drop-of-blood-an-easier-way-to-test-for-cov.aspx
For more information about remote microsampling for COVID-19 or other infectious diseases, visit our infectious disease resource page or click below:

No Comments Yet
Let us know what you think
Receive Blog Notifications