Neoteryx Updates Its Mitra Microsampling Devices
by Neoteryx, on July 26,2021
TORRANCE, July 2021 — Medical device company Neoteryx announces that to support its customers in research, clinical trials, laboratory services, and healthcare networks around the world, it is releasing a next-generation Mitra® device, which now includes a modified "sampler body" for easier handling in the lab. There has been accelerated adoption of Neoteryx's remote Mitra devices and Mitra Collection Kits since the onset of the COVID-19 pandemic, when researchers around the globe launched COVID-19 serology studies with a focus on remote or decentralized study models. Over the past year, these customers provided feedback on design features that would make it easier for them to use Mitra devices with VAMS® technology. The updated Mitra device design will improve handling and processing of Mitra microsamples by researchers and laboratory technicians.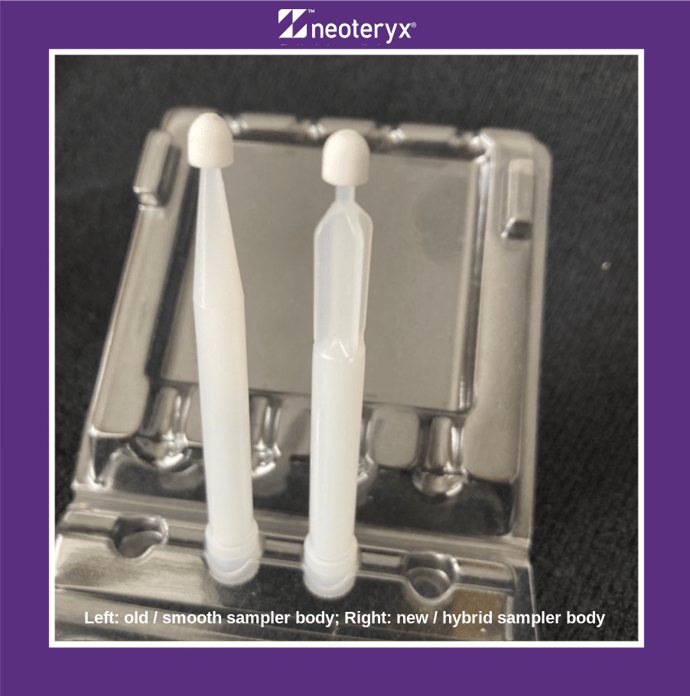 In July 2021, Neoteryx is transitioning all Mitra devices, regardless of their container format (Clamshell, Cartridge, and 96-Autorack™), to the company's new "hybrid" (vs. "smooth") sampler bodies. Hybrid sampler bodies incorporate a "finned" feature that extends from where the VAMS® sampling tip attaches to the Mitra sampler body to approximately 1 inch down (Please see featured image for comparison of old and new Mitra devices.)
What these improvements mean:
Easier removal of sampler body (by hand) from Cartridge & Clamshell containers
Prevention of sampling tip interaction with holes in the 96-Autorack
Tighter fit of sampling tip to device body to ensure tips stay in place pre- and post-sampling
Ample room for labeling with barcodes and other information
No change to the VAMS sampling tip itself in form or function!
No added cost for customers with this next-generation product update!
Existing customers can rest assured that there has been no change to the volumetric absorptive microsampling tip itself (in form or function) and, therefore, any method development or validation work that was previously completed using the older device design is not affected in any way. In addition, the plastic grade of the sampler body itself has not changed.

The company extends its gratitude to the many collaborative customers who shared their experiences about using Neoteryx's volumetric absorptive microsampling products, which helped the company advance to its next-generation Mitra device with a redesign that meets a broader range of needs.
For more information about transitioning to the updated Mitra® device, or to get a sample of the re-engineered sampler body please contact your Microsampling Specialist or email the Neoteryx microsampling team at: info@neoteryx.com.
Explore Different Mitra Device Options