Using VAMS to understand SARS-CoV-2, HCoV immunity
by James Rudge, PhD, Technical Director, Neoteryx on Oct 11, 2021 9:00:00 AM
Simultaneous measurement of multi-antibody responses from dried blood samples.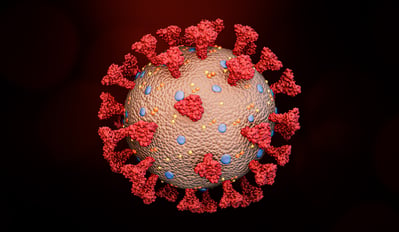 A study article published in the July 2021 issue of Frontiers in Immunology used Mitra samples collected from 54 study volunteers to measure antibody levels (IgA, IgG and IgM) raised from N and S antigens in:
pre-pandemic, SARS-CoV-2 convalescence and vaccinated cohorts.
The study, entitled "Antibody Mediated Immunity to SARS-CoV-2 and Human Coronaviruses: Multiplex Beads Assay and Volumetric Absorptive Microsampling to Generate Immune Repertoire Cartography," employed the use of high sensitivity multiplex immunoassay to understand the immunity landscape of SARS-CoV-2 infection and antibody cross reactivity to previous coronavirus infections.
The study refers to other seasonal human coronaviruses that aren't SARS-CoV-2 as HCoVs. The study authors visually mapped significant differences in antibody levels between the three cohorts to also demonstrate the impact of vaccination in controlling the Covid-19 Pandemic and how prior exposure to previous human coronaviruses (HCoVs) impacts antibody response.
Using Existing Technology to Remotely Monitor Infectious Disease Serology
The authors of the current study paper reviewed here, M. Zand et al, had previously developed a similar technology (mPlex-Flu assay) using the Luminex Magiplex platform for simultaneously measuring IgG raised antibodies against >30 strains of influenza. A key outcome from the mPlex Flu study, as outlined in their paper published in the Journal of Translational Science, was the successful cross validation of dried capillary blood, collected remotely on Mitra® devices with VAMS® technology and compared to wet venous serum collected in clinic.
To correlate blood values to serum, the group measured hemoglobin from subaliquots from the Mitra extracts and developed an algorithm to compensate for the negative biases observed when comparing dried blood to wet serum. Moreover, the group also demonstrated high sample stability on Mitra devices, thus leading Dr. Zand and colleagues to conclude that Mitra could be used to reliably collect samples for large-scale population studies of antibody-mediated influenza immunity. They also noted that this approach was not pathogen specific but could be used to estimate "antibody mediated immunity after vaccination for any other viral pathogens."
Are there differences in the coronavirus antibody landscape between pre-Covid, post-Covid-19, and vaccinated cohorts?
Based on the mPlex-Flu study, M. Zand et al developed a novel bead mix to measure anti-spike and anti-nucleocapsid for IgG, IgA and IgM raised against SARS-VoV-1, SARS-VoV-2, MERS and four seasonal coronavirus strains (OC43, HKU1, NL63 and 229E). Their new assay, mPlex-CoV, was highly specific and sensitive, with an assay range of 4 logs and very low inter and intra %CV. Moreover, the group utilized HCT compensation they had developed for mPlex-Flu to obtain adjusted serum values from dried Mitra blood samples. Using Mitra devices with VAMS tips, they collected samples from three cohorts (pre-Covid [n= 21], Covid-19 convalescence [n=19], and fully vaccinated [n=14]). The researchers then analyzed the data to generate immune repertoire cartography to observe differences between the three cohorts.
Key Findings & Highlights from the HCoV Study Using VAMS with the mPlex-Cov Assay
To act as a control

,

using the pre

-

Covid cohort

,

the group detected IgG antibodies for both α and β human coronaviruses

,

for both spike and nucleocapsid. This aligned with what had been previously reported in the literature. Also

,

they did not detect significant antibody levels for SARS-CoV-2 (both S and N proteins)

.

Furthermore

,

there was no evidence of back cross reactivity to human OC43 and NL63 coronavirus strains

.

Considering the homologies between the three virus types

,

they commented that this was a surprising observation

.





In the post-Covid /

convalescent cohort

,

the group observed elevated levels of all three antibody classes raised against

N and S proteins, not only for SARS-CoV-2

,

but also for the previous SARS-CoV-1 virus

(responsible for the 2002–2004 SARS outbreak in southeast Asia)

.

In this case

,

the researchers hypothesized that sequence homology may have played a part

.

Interestingly

,

they also observed

elevated

IgG

,

IgM and IgA antibodies against the S protein

for two of the seasonal strains (OC43 and HKU1)

.

However

,

for the N protein, elevated antibody levels were only observed for the two SARS

-

CoV strains.


The vaccinated cohort showed statistically significant increases in SARS-CoV-2 S protein antibody levels for all three antibodies when compared to the control cohort. Interestingly, these

levels were significantly higher than levels seen in the post

-

Covid-19 cohort

.

It was postulated that this was due to the effect of receiving two Covid-19 injections temporally spaced apart, where one injection

acted as an immune priming event and the other as an immunity boosting event. However

,

the post

-

Covid-19 cohort would have only experienced a priming event

–

a result of their initial

Covid-19

infection

,

hence their lower antibody levels

.

It was thus hypothesized that these

antibody

levels might increase

if those in

the post-Covid-19 (convalescence) cohort were

subsequently vaccinated

.
Multi-dimensional Scaling Used in the HCoV Study
To help understand the interplay between the antibodies raised against the various viral proteins in each of the three cohorts, the research group applied metric multi-dimensional scaling (MDS) using the Pearson Correlation distance; measuring IgG levels for both N and S within each subject. For example, Figure 1 shows that a good separation is seen for the S but not the N proteins. It also shows significant differences between immunity response from humoral infection versus vaccination (certainly for the S protein).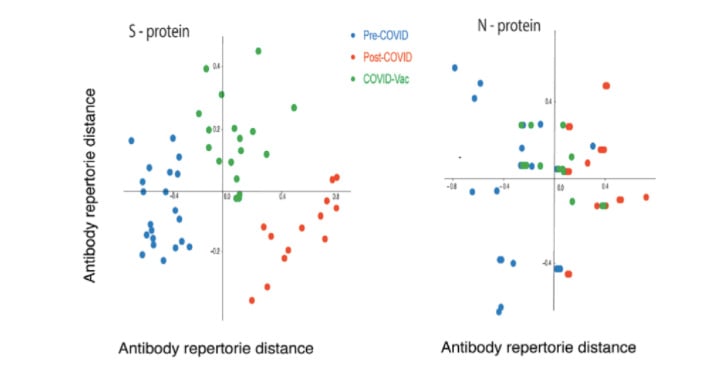 Figure 1 - MDS analysis of IgG repertoire distance from all three cohorts and between S and N proteins (Image Credit: M. Zand et al, CTSI, University of Rochester Medical Center)
HCoV Study Authors' Conclusions
The study authors concluded that Mitra devices with VAMS are an excellent approach for collecting samples remotely when risk of person-to-person infection is high. They found that combining VAMS and the mPlex-CoV assay allows for both full remote sampling as well as highly accurate lab analyses during clinical studies. Moreover, the authors commented that the combined approach also reduces the cost burden to enable future population studies. Finally, the study showed that the ability to simultaneously measure three classes of antibody raised against a range of the six most common HCoV strains will act to further our understanding of the humoral immune response to Covid-19 infection from SARS-CoV-2.
Final Thoughts
The research study reviewed here shows the excellent utility combining two cutting-edge technologies, Mitra with VAMS and mPlex-Cov, can help us gain a deeper understanding of the effect the SARS-CoV-2 virus has on antibody responses. This research paper has demonstrated that a wealth of information can be gathered by analyzing a tiny amount of remotely collected blood on a sensitive multiplex immunoassay. This combined approach could potentially pave the way towards the future of population screening (employing larger and larger cohorts).
Finally, this approach will potentially allow us to garner a deeper understanding of vaccine efficacy and help to clarify how prior exposure to related pathogens can impact the immune response to exposure of future novel viruses. This is particularly relevant now as the world becomes more globalized and as we encroach further into animal habitats, increasing the likelihood of animal-human crossover infection (zoonotic transmission) with novel pathogens.
Indeed, we have seen from Covid-19 how zoonotic transmission can wreak havoc on populations. Technologies such as Mitra and VAMS, coupled with mPlex-Cov, will help enable more remote monitoring of emerging infections and, when needed, full population serological screening research and related initiatives.
This study paper was summarized for our readers by James Rudge, PhD, Neoteryx Technical Director, as curated content. To learn more about the study conducted by researchers in the Department of Medicine, Division of Nephrology, and in the Clinical and Translational Science Institute at the University of Rochester Medical Center in Rochester, NY, please see the original article published in Frontiers in Immunology.

No Comments Yet
Let us know what you think
Receive Blog Notifications