is dried blood a biohazard?
by Neoteryx | 2 min read
Working with traditional wet blood specimens has always raised safety concerns and posed logistical challenges. Blood sample storage and cold chain shipping require navigating an increasingly complicated maze of regulatory issues. It's no wonder that dried blood spot techniques have emerged in the last few decades as a preferable alternative in many cases.
Working with wet blood, collected from traditional venipuncture methods, brings with it the full range of obligations associated with handling and disposing of biohazardous materials – not to mention the significant risks. By contrast, dried blood is simply not as dangerous, and is subject to far less stringent requirements.
The CDC recently updated its guidelines around handling and shipping dried blood specimens. While important safety precautions must be recognized and put in place, the expectations for dealing with dried capillary blood specimens are nowhere near as rigorous as those for wet blood and other serious biohazards. Clearly, dried blood is not a biohazard in the same way that wet blood is.
However, working with dried blood has traditionally posed its own unique challenges. Data generated from DBS cards and filter paper has traditionally not compared to the "gold standard" associated with wet blood, chiefly because of the hematocrit bias. Dried blood spotting has required upheaval of lab workflows, and the costs and logistical difficulties of automation have proved prohibitive for many medium- to high-throughput labs.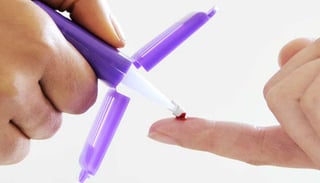 In response to these frustrations, Volumetric Absorptive Microsampling has emerged as the next generation of dried blood spotting technology. It facilitates the simple collection of volumetrically accurate, quantitative dried blood samples with a user-friendly device featuring a VAMS® tip at the end. The Mitra device with VAMS tip resembles a Q-Tip, but the special absorbent material of the tip is different from a cotton swab. These absorbent tips ensure collection of a stable and precise blood sample, so the hematocrit bias is effectively equalized. The microsamples absorbed on a MItra device can furnish a wealth of data that correlates with data generated from wet blood specimens.
Per CDC guidelines, taking and sending capillary blood samples is easier, but the process may still pose some challenges. Fortunately, Mitra Collection Kits (available from Neoteryx) include detailed instructions and all the supplies needed for collecting volumetrically accurate blood samples anywhere, at any time. Almost anyone can do it, with minimal training. And these kits can be fully customized to meet nearly any preference or requirement.
If you know it's time to make the switch to dried blood for your research studies, but you're not sure how to get started, our microsampling specialists can make the process easier.