concierge medicine: challenges, changes and controversies in 2020
by Neoteryx on Jul 20, 2020 9:00:00 AM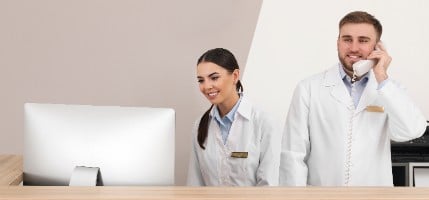 The COVID-19 crisis has forced many to adapt to a new lifestyle; one that adheres to social distancing regulations to avoid cross-contamination. As you can imagine, the coronavirus pandemic has dramatically impacted the healthcare industry. Many medical institutions have had to rapidly evolve their patient-centered care approaches, adapting to remote patient monitoring, and new care delivery models.
"Concierge medicine" has become a go-to alternative for patients seeking personalized medicine without risking exposure to the virus. The "concierge" form of care delivery has been untapped by the majority for a long time, and utilized by only a select few. However, the viral pandemic has caused more physicians to explore the concierge model. A survey involving independent physicians found that a majority of medical professionals were considering a shift to concierge medicine.
What is concierge medicine?
Concierge medicine (also known as "retainer" or "boutique medicine") involves physicians providing more personalized medical care than people typically experience in the traditional healthcare system in the United States. In a concierge medicine model, patients have 24/7 access and direct contact with their concierge physicians.
The model offers three benefits to physicians:
Enhanced personalized care for their patients

Fewer patients that need to be seen in a day

Reduced physician burnout
Concierge medicine differs from traditional medicine because patients pay a membership or retainer fee that ranges from $125-$220 per month. The cost (and reduced patient population) enable concierge physicians to provide 24/7 access, same-day or next-day appointments, and longer examination times. Doctors offering this form of healthcare can operate independently or join an affiliate network.
Courting Controversy
While the concierge style of patient care is attractive for many, the high monthly fee deters most people from engaging concierge physicians. In fact, concierge medicine is regarded as a rich man's privilege or one that is reserved only for celebrities.
The recent discovery by LA Times that concierge doctors were selling remote COVID-19 testing kits exclusively to their clients caused public outrage. Citizens found the practice unfair, because many people who had symptoms and needed testing could not access the testing kits. Such scenarios echo the need to make concierge services more accessible to a wider patient population.
Recent Changes Expand Access to COVID-19 Testing
Recent changes in many healthcare systems allow more patients to test for the COVID-19 virus from the comfort of their homes using at-home testing kits and blood collection kits paired with online apps. Some health systems are also providing a symptom-related online test and face-time or text options for people to communicate with their doctor. These telehealth tools reduce exposure to viral pathogens and also reduce the cost of care delivery significantly. Additionally, patients can take advantage of the free face-time consults that many board-certified doctors are offering to patients with coronavirus-related symptoms. While these newer telehealth offerings don't necessarily reach the high level of 24/7 "house call" services that concierge medicine provides, they certainly give more people access to basic care during the COVID-19 crisis.
Leverage Remote Sampling Technology
Remote patient monitoring is an invaluable tool for concierge physicians, especially when caring for chronically-ill patients or the elderly who are safer at home or have limited mobility. Today, many more doctors are considering using digital technology and portable devices or systems to monitor a patient's vitals remotely. More doctors also are considering providing at-home specimen collection kits.
At-home collection kits like the Mitra® Collection Kit from Neoteryx enable doctors to ship kits out to patients, who can self-collect blood samples and mail them to a lab for testing. The doctor receives the test results from the lab, and follows up with their patient via phone, email or video chat to discuss the results and provide related medical advice.
Telehealth, or virtual consults, allow doctors to closely monitor patients and provide concierge-level care without visiting the patient's home. This reduces the overall cost of providing care in a facility and also minimizes exposure to viral pathogens. Home health devices like the Mitra® microsampler have proved a reliable sample collection tool for SARS-CoV-2 antibody testing.
The Benefits of Telehealth & Virtual Appointments
Virtual appointments conducted via digital communication channels enable patients to receive routine care from their doctor when an in-person visit is unnecessary or unsafe.
If needed, web-based visits can be scheduled to address minor ailments. The premise is to create a virtual "drop-in clinic" where patients can access care without going to a hospital or urgent care center. The process looks something like this:
The patient logs into the web-based portal and answers a few questions to determine which medical service they need.

Services can include prescriptions, recommendations, or home healthcare strategies.
The concierge care approach seemingly benefits only the wealthy, but recently adopted telehealth tools offer more physicians a way to provide concierge-style medicine to more patients. Time will tell if physicians and healthcare systems can make concierge medicine more affordable for all. Research on this style of personalized medicine continues, and it is a promising prospect for improving healthcare pathways in the future.
No Comments Yet
Let us know what you think
Receive Blog Notifications