the rise of remote patient monitoring solutions (RPM)
by Neoteryx | 2 min read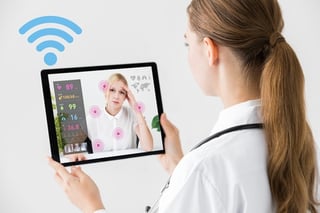 Remote patient monitoring is on the rise as more researchers and technicians, and the clinicians that rely upon them, adopt new technologies that improve the quality of patient care. Remote monitoring of patients encompasses a broad range of approaches, from the use of mobile devices to monitor heart rate and exercise levels to remote blood collection using microsampling.
Benefits of Remote Monitoring
Remote patient monitoring makes many aspects of healthcare less invasive and intrusive for patients. Patients can participate in their care from the comfort and privacy of their own homes. They have greater agency their treatment, maintain greater stability, and are often happier than those who need to travel to have illnesses and chronic conditions monitored. This type of monitoring can lead to better engagement of patients and improved satisfaction levels, as well as higher oversight of the patient.
The approach is so beneficial for patients, healthcare professionals, and researchers, that market intelligence company Transparency Market Research forecasts significant future growth of the field. A report published in 2014 forecast that the remote patient monitoring market would rise by at least 14 percent between 2014 and 2020. If the forecast holds true, then this market sector would be worth an estimated $1 billion by 2020, after being valued at just $0.38 billion in 2013.
Meeting the Changing Needs of Patients
The rise in conditions such as heart disease, diabetes and respiratory disease are fueling the need to formulate modern approaches to healthcare and research across the globe. Crucial remote monitoring devices that are forming part of this leap into the future include heart monitors, body temperature monitors and hematology monitors. Of these, it is the ability of patients to collect blood samples in their own homes and to safely send them away for testing that offers the opportunity for further innovations in clinical testing and patient care.
The Role of Microsampling
Remote blood sampling uses microsampling technology, which is easy to use by patients in their homes. Such an approach is less invasive than traditional blood collection and is better suited for small children, and those who experience needle anxiety. From the perspective of those collecting and analyzing samples, this approach provides a reliable and cost-effective collection, shipping and storage solution, as well as new opportunities to gather stable samples in low-resource regions. Microsampling is also a field-changing technology that can answer the challenges of the changing remote patient monitoring requirements.