choosing the best method for specimen collection
by Neoteryx | 3 min read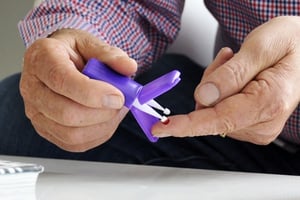 The COVID-19 pandemic has created a shift in the way researchers collect specimen samples for scientific studies and clinical trials. The scientific community has found it increasingly difficult to recruit enough volunteers for studies and trials. This is because research participants want to avoid exposure to the SARS-CoV-2 virus and the emerging contagious variants that cause COVID-19 illness. Researchers have found it necessary to pivot to a remote research model that allows for virtual studies. The virtual approach may require pop-up sampling stations in outdoor environments for drive-thru specimen collection, or may involve study volunteers in self-collecting their own samples at home and mailing them to the lab.
More researchers are leveraging advanced technologies that enable remote specimen collection. With ongoing mandates for social distancing protocols and stay-at-home directives from governments and public health organizations, study volunteers are now more likely to participate in virtual clinical trials that offer them remote options.
Blood Collection Methods Used
For researchers accustomed to using conventional collection methods and liquid blood samples for their studies, the transition to remote technologies may require an adjustment. However, if their studies are to move forward, they'll need to make that adjustment since blood samples are the starting point for a range of investigations. Blood samples are needed for serology studies that investigate the antibodies of SARS-CoV-2 and other infectious diseases, as well as the effects of the COVID-19 vaccines and the benefits of new treatment drugs.
3 blood collection methods researchers typically use:
1. Arterial Sampling
Arterial sampling usually happens in a hospital environment, so may be used for onsite clinical trials. It entails collecting blood from an artery using a needle and syringe primarily to determine arterial blood gases (ABG). This procedure should only be performed by health professionals. Health professionals must demonstrate proficiency in arterial sampling after formal training.
Blood collected through this procedure is used to measure the levels of oxygen and carbon dioxide in the blood and determine the acid-base balance (pH).
2. Fingerstick Sampling
Also known as finger-stick blood collection, finger-stick sampling has become very popular because it allows for remote sampling at home during the ongoing Coronavirus Pandemic. The technique entails drawing a minimal amount of blood from the study participants, usually from a pin prick to the fingertip using a small lancet. The method is quick, nearly painless, and requires very little preparation.
It's not necessary for a healthcare professional to perform a finger-stick sampling procedure, as long as the enduser follows the illustrated instructions and/or watches a demonstration via an online video. Finger-stick sampling enables self-collection by nearly anyone. The benefits for study volunteers include low-volume sampling and the ability to carry out specimen collection at home. Remote samples are typically analyzed as dried specimen microsamples, which are easier for volunteers to store and ship because they don't require dry ice or refrigeration.
3. Venipuncture Sampling
Venipuncture is a common method used to collect blood samples from the median cubital vein in the arm of an adult study participant. This vein is a good target since it's positioned close to the skin and not surrounded by many large nerves.
Venipuncture can happen in a lab, hospital or general medical practitioner's office and is performed by a trained nurse or phlebotomist.
However, the venipuncture method is inconvenient and can be painful. It is the most frequently used method of blood collection, but that doesn't mean it is the best way to collect a blood sample. Venipuncture presents some risks and also presents challenges in storage and transportation. Also, there is a risk of contamination of the liquid blood samples after collection. (The same concerns also apply to arterial sampling.)
Remote research studies can utilize remote sample collection to make them safer and more convenient for participants, who'd prefer to avoid visiting blood collection sites or medical facilities that use the more traditional sample collection methods.
While arterial and venous sampling are standard methods of blood collection, advances in technology have made capillary sampling using the finger-stick method better than ever, and this approach is quickly gaining ground in the research community. Remote sample collection kits and devices like the Mitra® devices from Neoteryx have reduced the risks of blood collection, made it much more convenient for study volunteers, and lowered the overall study costs.