blood microsampling bioanalysis: extraction methods examined
by Neoteryx | 1 min read
We're tremendously proud of, and excited for, the work being done by independent research groups in developing extraction methodologies for Mitra® samples. These groups have developed and validated their own powerful methods for the determination of immunosuppressants and antiepileptic drugs (AEDs) using Volumetric Absorptive Microsampling (VAMS™) technology.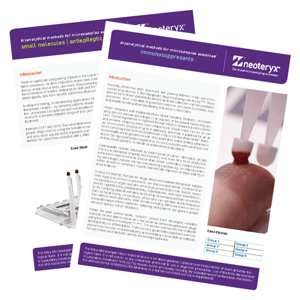 Recently, we shared a summary of this work, showcasing its results along with step-by-step systems for those who want to work through these extraction methods or use them as models and inspirations for their own projects.
Now, by popular demand and as a testament to the rapid growth in use of Mitra devices within the scientific community, we've added a second volume, examining even more detailed examples of bioanalysis of analytes extracted from Mitra tips.

These documents are available for complimentary and immediate download. They include:
Pre-extraction strategies
Whole blood to plasma correlations
Extraction methodology details
Preparing QCs and standards
Here at Neoteryx, we advance the science of blood microsampling through collaboration with leaders in science, research, and healthcare, in a spirit of transparency and love of shared knowledge. Our technology succeeds when our collaborators and customers succeed.
Download these useful and informative documents today, and discover the scientific research being done on the front lines of the blood microsampling revolution.