a humbling tale: what we can learn from the theranos debacle
by Neoteryx Microsampling on Sep 7, 2018 5:59:00 AM
Fraud, lies, and a coverup. Those were the elements in play in the dramatic downfall of the once high-flying Theranos. This week, it was finally put out of its misery, although the legal troubles and public humiliation of founder Elizabeth Holmes will drag on for years.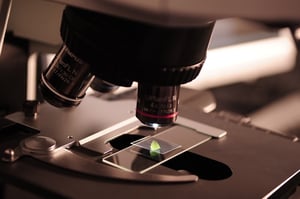 The company promised wide-scale disruption through miracles that turned out to be nothing. Its technology didn't work, and Holmes didn't understand how it should. Her descriptions sounded good to tech investors but made little sense from a scientific perspective. Fraudulent processes were enshrouded in cult-like secrecy, which protected the company from scrutiny – that is, until journalist John Carreyou started digging around and Holmes's sand castle caved in.
Silicon Valley's lean, aggressive startup culture has disrupted everything from taxis to hotels to grocery shopping, creating untold new wealth for investors and changing the way the world does business.
The implosion of Theranos illustrates why those values may not be the right prescription to change the slow-moving, safety-conscious world of healthcare.
At Neoteryx, we produce a smarter blood collection technology that allows our customers to do their own groundbreaking work. We know we can't change the world on our own, and we suggest that anyone else who wants to enter this space keep these important values in mind.
Radical Transparency
Theranos talked a lot about disruption but published almost nothing to back it up. The science that supposedly supported its claims was never on display in a way in which it could be reviewed and scrutinized by the healthcare community at large.
Unfortunately, healthcare companies need the courage of transparency to survive, much less do world-changing work.
At Neoteryx, our approach has been to work with trailblazers, testing labs, and academic sites that are interested in evaluating novel technologies. They are speaking on our behalf when they publish their results. Nothing is hidden – we're laying all our cards on the table.
Most companies aren't as transparent as we are because it puts them at risk of others, particularly larger companies, infringing on their intellectual property and blocking their progress.
We're a small company, but we believe in our products. We're letting the scientific community work with our tools in the cold light of day, revealing their advantages and weaknesses for the world to see.
Theranos promised to change healthcare on its own. That's not just impossible – it's cowardly. Real healthcare companies work to get better at what they do best, in collaboration with hard-nosed scientists and industry leaders.
Collaboration and Cooperation
Neoteryx relies on its lab partners to validate and deploy assays. For one example, we have worked closely with Mayo Clinic, hosting their scientists at our corporate workshop, where they presented a poster documenting their work with our technology.
Right now, Mayo is in the midst of publication of a clinical trial in which they evaluate our Mitra device for immunosuppressant analysis. This data is being vetted by the hospital system to determine if the technology is suitable for deployment.
This is a long road that we travel alongside clinical scientists, physicians, and hospital administrators. Our long hours of work may not bear fruit for several years. And that must be okay.
The science of healthcare moves slowly – it has to, with lives on the line. Our microsampling technology represents a major breakthrough in blood collection. It deserves to be handled responsibly, and developed in cooperation with the sharpest minds in the industry. That's what it needs to succeed.
While Elizabeth Holmes squandered her time and considerable intelligence on snowing investors and journalists, real healthcare companies were working within the system, doing the grunt work that is required to move medicine forward.

Receive Blog Notifications