4 hot trends in the evolution of healthcare in 2020
by Neoteryx on Jul 27, 2020 9:00:00 AM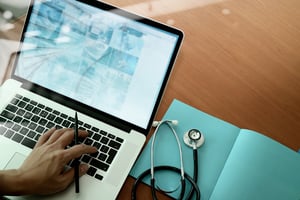 Healthcare is one industry that has experienced a tremendous digital transformation over the last decade. Technology helps health organizations provide better patient care and overcome challenges like streamlining workflows.
The digital health market is predicted to reach $206 billion by the end of 2020, as more institutions integrate technology into mainstream operations. The market value may surge even higher than predicted as COVID-19 cases continue to spike through 2020, and more healthcare practitioners embrace digital technologies and virtual consults as the safest care pathway moving forward.
Here are four digital trends that will define the transformation of healthcare in 2020:
1. Telemedicine
Telemedicine, or telehealth, is one of the leading areas of rapid change in the healthcare industry. Access to healthcare providers increasingly became restricted during the COVID-19 pandemic. Even before the coronavirus pandemic, wait times had increased over the years, with patients waiting for up to 24 days to see a doctor. COVID-19 has pushed telemedicine to the forefront as a way for doctors to safely provide care to more patients.
With telemedicine, patients can receive care wherever they are because doctors can often diagnose and treat patients using remote and wireless devices or wearables paired with telecommunications. Additionally, the availability of electronic records makes it easy for caregivers to forward documents to specialists if the patient needs specialized care.
Technology also helps hospitals reduce the readmission rate through the provision of real-time remote patient monitoring (RPM). With wearable devices and remotely collected blood samples and other specimens, doctors can monitor their patients' health without requiring them to visit the clinic, hospital or lab.
2. Cloud Computing
Healthcare organizations continue to look for ways to maintain an effective infrastructure for record-keeping. Cloud computing seems to solve the problem.
In the past, hospitals used local data centers to manage large patient records. The approach presented issues for hospitals, because they needed larger data centers as patient records increased.
Cloud computing provides a remote hosting and data storage alternative. It eliminates the need for physical storage centers. Additional benefits of integrating the technology include:
Collaboration – Cloud computing makes it possible for doctors and patients to collaborate when using telehealth solutions. Electronic health records and health information exchanges are useful because they're available anywhere; anytime.
Financial advantages – In the recent past, healthcare institutions preferred spending large sums of money on capital expenditure instead of on operational costs. The cost of IT infrastructure is difficult to predict, but the certainty it will meet the organization's needs is not. Investing in cloud computing is expected to save organizations "unpredictable expenses."
Scalability – Hospitals don't need to purchase and install servers; they only need to contact the cloud service provider and buy additional storage space.
3. Treating Patients Using Virtual Reality
Virtual reality has significantly changed the way patients receive care, and the way practitioners provide it. VR presents a multitude of applications in the healthcare industry, from using new life-saving treatment methods to training doctors. Some of the applications and benefits include:
Disease awareness – VR has proven useful in raising awareness among healthcare professionals about patients' daily struggles. Such a demonstration was recently presented to doctors at a pharmaceutical research and development organization. The goal of the presentation was to enable doctors to relate to a patient's struggle to live with Parkinson's disease.
Medical training – With VR, medical students can enter the human body and access areas otherwise impossible to reach. Rather than relying solely on cadavers for learning, VR provides a detailed image of any body part in 360-degree, CGI reconstruction.
Patient education – The ability of doctors to view the human body in detail is also useful for patients. They can be guided through their upcoming surgery with VR for a better understanding of the procedure and treatment plan.
4. 5G Connectivity
As more organizations provide healthcare in remote areas through telemedicine, there is a need to improve the speed of the networks, too. 5G is the fifth-generation technology standard for cellular networks and telecommunications. 5G connectivity can better support healthcare efforts by facilitating the transmission of large imaging files so specialists serving patients in rural and remote areas can provide care accordingly.
Once they optimize with 5G technology, healthcare organizations will be able to offer remote patient monitoring (RPM) to more people across a wider geographical area. With 5G capability, care providers will also feel more confident that they are receiving the medical data they need in real time, allowing them to provide the high-quality, personalized care their patients require for the best outcomes.

No Comments Yet
Let us know what you think
Receive Blog Notifications