UK Initiative Offers At-home Microsampling Devices to Children
by Neoteryx, on November 12,2018
UNITED KINGDOM and TORRANCE, CA – November 07, 2018 – Neoteryx, developer of microsampling devices with volumetric absorptive microsampling, is proud to supply its Mitra® devices to the Nottingham Pediatric Nephrology team for use in their home monitoring kit, which enables easy at-home sampling for therapeutic drug monitoring (TDM) for pediatric patients.
The Mitra microsampling device, based on VAMS® technology, is easy to use and requires minimal training to collect an accurate blood specimen. VAMS enables quantitative, volumetrically accurate capillary blood collection anywhere, anytime, by virtually anyone, with minimal training. Study volunteers, patients or their caregivers can collect blood samples at home using a finger-prick method and mail them to a lab, where sample analysis can be performed.
View the video below to see how easy it is for this mother and son to collect samples at home:
This mother and son participate in "Count on Me," a special home sampling program created by Monique Burgin, specialist nurse, and Dr. Jon Jin (JJ) Kim, pediatric nephrologist, at Nottingham University Hospital. The "Count on Me" take-home sampling kits are designed to facilitate easier therapeutic drug monitoring of tacrolimus and creatinine. Made specifically for pediatric transplant patients, the kits include all the materials needed to collect a blood sample at home, with fun elements such as "finger-pricking good" lancets and "well done" stickers for successful collections.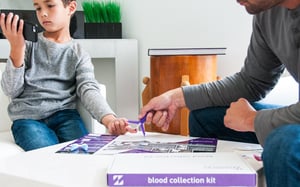 "These home kits make microsampling easy and fun for families," says Dr. JJ Kim. "I've seen the potential that Mitra devices have for facilitating remote sampling, and I created these kits to help bring that into a pediatric context. When I see how much easier it makes things for patients, when they can self-test and take agency in the process, it really hits home."
Another patient who directly benefits from the initiative is 14-year-old Josh Knapp, a kidney transplant patient living in England.
"During a routine clinic appointment, we were told about the home testing initiative and the Mitra microsampling device, how it works, and how to use it," says Caroline Knapp, Josh's mother. "We were asked if we would like to try it. Josh, of course, being the typical 14-year-old, with the prospect of trying something totally new that could lessen hospital visits and make blood sampling a lot easier, jumped at the chance. We can now sit at home and collect a sample using the device, send it off, and get an accurate result without having to leave the comfort of our own home or Josh missing school – no driving for miles for blood tests."
According to patient satisfaction data from Neoteryx, a whopping 93% of surveyed patients and families who used our microsampling devices said they would be "likely" or "very likely" to choose microsampling over venipuncture blood draws for their child and others. This speaks to the powerful benefits of microsampling technology in pediatric care and research studies.
"The advantages of using Mitra devices and microsampling technology in the context of therapeutic drug monitoring are becoming more and more apparent, especially in pediatrics, where an improved patient experience is paramount" said Fasha Mahjoor, former CEO of Neoteryx. "Neoteryx is honored and excited to partner with innovators like Dr. Kim to help pioneer pediatric microsampling and remote sampling for TDM, with this home monitoring initiative."
The use of Mitra microsampling devices in kits for pediatric transplant populations follows on the heels of recent research by Dr. Christophe Stove in Belgium, whose team recently validated the use of VAMS® technology for at-home blood collection in monitoring HbA1c levels in children with diabetes.
About Neoteryx
Neoteryx is a brand of Trajan Scientific and Medical, providing scientifically precise remote specimen collection and microsampling technologies. To support Trajan's vision of enabling science that benefits people and improves wellbeing, Neoteryx innovates and develops quantitative microsampling technologies that are easy to use and amenable to manual and automated analysis in the lab. Neoteryx microsampling technologies can ease workflows and enable decentralized research and healthcare models. Our product portfolio includes the Mitra® device based on VAMS® technology, the hemaPEN® that advances both capillary and DBS technologies, and more microsampling products on the way. For information about microsampling, visit www.neoteryx.com. For more information about Trajan's brands and services, visit: www.trajanscimed.com.
For updates on microsampling, visit www.neoteryx.com or follow @neoteryx on Twitter.