Microsamples from Cyclists Provide Clues to Treat and Prevent Diseases
by Neoteryx Microsampling on May 10,2023
A new peer-reviewed study article from the University of Colorado Anschutz Medical Campus, published in the May 10, 2023 edition of Sports Medicine, describes how researchers used the Mitra® microsampling device from Trajan Scientific and Medical to analyze the blood of elite cyclists. The researchers at CU Anschutz used new metabolomics techniques in combination with the Mitra devices, which enabled them to study thousands of metabolites from just a few drops of blood.
The study of metabolites, which are small molecules made by our bodies when they break down food, drugs or chemicals, can provide clues that may help treat and prevent chronic diseases.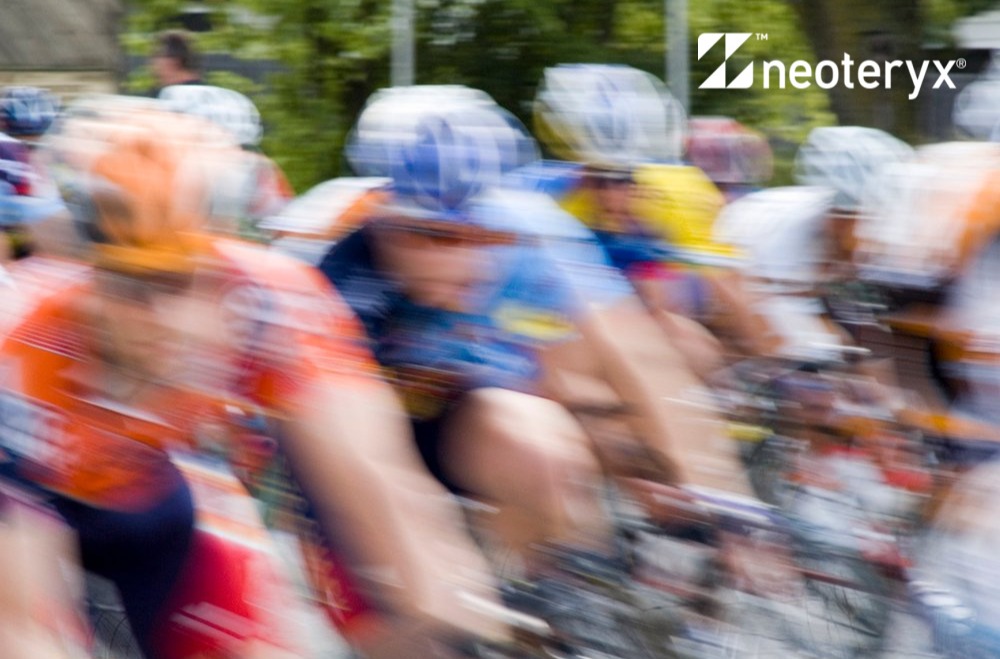 These types of metabolomics studies are typically conducted using liquid blood collected via traditional blood draws, which present challenges. Liquid blood samples must be frozen directly after the blood is drawn from study subjects. Transport, handling and storage of liquid blood samples can be complicated and expensive.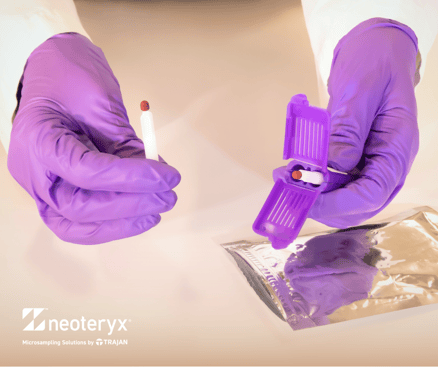 The research study was made easier when the researchers adapted a protocol using the Mitra microsampling devices, which deliver dried blood spot (DBS) samples with volumetric precision.
The use of these remote microsampling devices enabled the researchers to follow the cyclists in the field and monitor their performance and physiological changes in real-time.
"We're focusing a lot on what happens to the mitochondrial function of cells. This mitochondrial function is what we see dysregulated in so many diseases," said Iñigo San Millán, PhD, a study co-author and assistant professor in the Division of Endocrinology, Metabolism and Diabetes at the University of Colorado School of Medicine in the news announcement.
Dr. San Millán went on to say that the research team wanted to capture information from their study subjects via a non-invasive blood sampling method with the aim of detecting dysregulations of key areas before a disease develops.
He said the researchers focused on elite athletes because they "come closest to representing physical perfection from a fitness point of view. We cannot understand imperfection – such as multiple metabolic diseases – if we don't understand perfection in the first place."

According to Travis Nemkov, PhD, the lead and co-corresponding author of the paper and assistant research professor in the Department of Biochemistry and Molecular Genetics at the CU School of Medicine, their study shows the feasibility of using this technology to monitor sports performance. Dr. Nemkov added that they combined their metabolomics technology with microsampling devices for remote blood collection to investigate an approach that would be feasible for studies in different kinds of athletes – professionals as well as "weekend warriors."
Dr. Nemkov believes this study will lead to a more personalized exercise-as-medicine approach that will help protect those at risk of certain conditions, such as diabetes and heart disease. It may also offer potential treatments for patients already diagnosed.

"By identifying these healthy metabolomic signatures, we are able to take that information into patient populations with health complications, like those who are cancer survivors or those who are suffering from symptoms of long COVID," Dr. Nemkov said in the CU Anschutz press release.

Angelo D'Alessandro, PhD, the senior and co-corresponding author of the study and professor in the Department of Biochemistry and Molecular Genetics added that collecting blood analysis information like this could allow medical teams to create a more individualized exercise plan to get patients back to health. "We believe this technique opens a window into a variety of potential new therapies for those suffering from metabolic diseases," said Dr. D'Alessandro.
This is curated content. To learn more about the research study from CU Anschutz, please read their press release, and their paper published in Sports Medicine.
About Neoteryx, Microsampling Solutions by Trajan
Neoteryx, a world leader in microsampling devices, was acquired by Trajan in 2021. Today, Trajan's full line of microsampling solutions carry the Neoteryx brand. The Neoteryx range of microsampling products provide precise, quantitative remote specimen collection. They are easy to use and amenable to automated analysis in the lab, easing workflows and enabling decentralized research and healthcare models. The product portfolio includes the Mitra® device based on VAMS® technology and the hemaPEN® that advances both capillary and dried blood spot (DBS) technologies, with more microsampling products in the pipeline.
For more information on Trajan's Neoteryx range of microsampling solutions, visit www.neoteryx.com.

For more information about Trajan, visit www.trajanscimed.com.

About the University of Colorado Anschutz Medical Campus
The University of Colorado Anschutz Medical Campus is a world-class medical destination at the forefront of transformative science, medicine, education and patient care. The campus encompasses the University of Colorado health professional schools, more than 60 centers and institutes, and two nationally ranked independent hospitals - UCHealth University of Colorado Hospital and Children's Hospital Colorado - that treat more than two million adult and pediatric patients each year. Innovative, interconnected and highly collaborative, the University of Colorado Anschutz Medical Campus delivers life-changing treatments, patient care and professional training and conducts world-renowned research fueled by over $690 million in research grants. For more information, visit www.cuanschutz.edu.

Image Credits: Shutterstock, iStock, Trajan, Neoteryx

No Comments Yet
Let us know what you think
Receive Blog Notifications