Exagen Diagnostics' microsampling method gains wider acceptance
by Emerson Dameron, on February 14,2017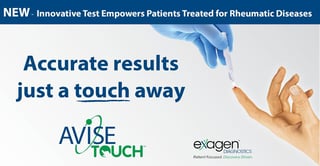 A new, non‐invasive blood collection method helps physicians and their patients monitor exposure levels to potentially toxic drugs from a single drop of blood. And it's changing the landscape of rheumatology.
Exagen Diagnostics, Inc. home of AVISE® testing, announced today that AARA powered by Bendcare, a national organization of rheumatologists in the United States with over 100 physician members, has recommended use of AVISE MTX (methotrexate polyglutamates) and AVISE HCQ (Whole blood Hydroxychloroquine) in routine practice.
The new AVISE approach, based on Neoteryx's Volumetric Absorptive Microsampling (VAMS™) technology, has been scientifically validated to demonstrate equivalence of fingerstick blood collection to traditional venipuncture blood collection. Last fall, it became available throughout the contiguous United States.
The timing could not be any better for the AARA's recommendation, according to Exagen CEO Ron Rocca, "with the January launch of our novel AVISE Touch capillary blood collection method, we have eliminated the need for venipuncture blood draw, a major hurdle for many patients. Physicians are likely to welcome this advanced approach to optimizing methotrexate given new patient outcome measures being observed by healthcare payers of all types."