virtual clinical trials with remote sampling are trending
by Neoteryx Microsampling on Aug 31, 2020 9:00:00 AM
Virtual clinical trials provide important information about new medications, treatment outcomes, safety, disease trends, healthcare costs, and patterns of care. Also referred to as decentralized clinical trials, the human trial phase of clinical research is critical because it determines the efficacy and effects of medical interventions.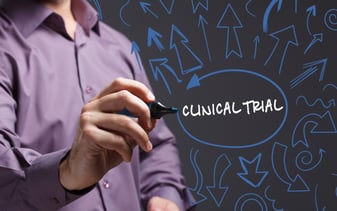 A trial controls variables affecting the results of the study through a real clinical experience.
While pre-clinical research utilizes study animals and rigorous tests to help resolve early problems and potential challenges, clinical trials require human participation to confirm safety and ensure efficacy before approval for commercial use.
COVID-19 Stalled Many Clinical Trials
Many organizations were either recruiting new clinical trial participants or already in-progress on trials when the coronavirus pandemic hit in early March 2020.
When governments and healthcare officials ordered people to stay at home on "lockdown" to stop the spread of the SARS-CoV-2 virus, several clinical trials stalled. Others had to be cancelled or postponed. Participants could no longer visit trial sites for routine blood draws and follow-up appointments for fear of contracting COVID-19 illness.
How could trial coordinators overcome these challenges?
Old & New Challenges in Recruiting Clinical Trial Participants
Even without a global pandemic, recruiting and retaining trial subjects can be challenging. Clinical trials often are perceived as inconvenient and uncomfortable for participants. The many objections from trial recruits include:
Clinical trials are seldom one-day events. They can last several months, or even years, and require participants to make frequent trips to the medical facility for monitoring and follow-up.


Clinical trials for new drugs require frequent blood draws and blood tests so the medical team can manage drug effects and dosing levels. Many people find traditional blood draws, such as venipuncture (via a needle that punctures a vein in the arm), uncomfortable and painful. Stressful or painful blood collection methods can make recruiting people for clinical trials more challenging.



People may hesitate to join a trial if they believe their safety is at risk.
The COVID-19 pandemic gave rise to new objections from trial recruits. People now had additional concerns that their participation might expose them to the novel coronavirus (SARS-CoV-2) when they visited a clinic facility for routine check-ups and blood draws over the course of the trial.
Clinical trial managers found it difficult to recruit or retain trial participants during the coronavirus pandemic because most people preferred to stay safe at home.
Remote Specimen Collection Overcomes Objections
Remote, patient-centric blood microsampling has proved an effective solution to helping clinical trials continue along a virtual pathway, because this approach allows participants to remain safe at home.
Virtual or decentralized clinical trials also minimize inconvenient travel or discomfort for participants. Remote sampling technologies that can be used by anyone eliminate the need for participants to visit clinics or labs for traditional blood draws with healthcare staff.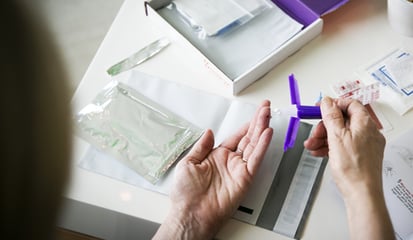 Participants can use remote blood sampling devices, such as the Mitra® microsampler, to collect their own blood samples easily at home and mail them to the lab for analysis. These devices are designed to collect small amounts of blood (10-20 microliters) from a simple finger-stick, eliminating the stress and discomfort of traditional venipuncture blood draws by a phlebotomist.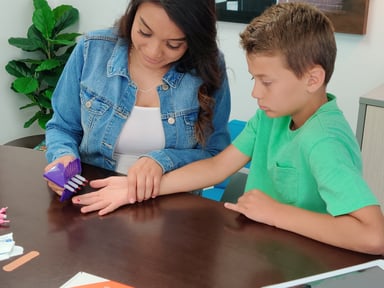 The Mitra devices use a new technology called volumetric absorptive microsampling, or VAMS®.
This is made possible by a small, porous sampling tip on the end of the device, which collects a scientifically accurate blood volume.
Microsampling technology makes it possible for virtually anyone to collect a precise blood sample without any training.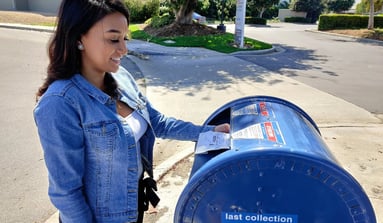 The blood samples dry on the tips and are stored in protective cartridges for safe and easy transport through the mail.
Once the blood samples arrive at the lab, they are analyzed as dried blood samples. In most cases, a dried blood sample on the Mitra device tip provides the same clinical information that "wet" blood in a sampling tube provides.
How Remote Blood Sampling Fast-Tracks Trials
Blood collection that is performed remotely using Mitra with VAMS eliminates the need for costly or complicated shipping methods. Patients simply collect their samples at home at specified time intervals and mail their blood samples in the provided sealed pouch and envelope. This remote and minimally invasive blood sampling approach reduces clinic visits yet allows clinical trial monitoring to continue.
Remote blood sampling enables virtual trials and helps overcomes multiple objections, which encourages easier subject recruitment and retention. Taking a remote sampling approach also can make the clinical trial process more efficient, significantly reducing the time-frame.

Previously, drugs and vaccines went through investigational stages that lasted six years or more because pre-clinical trials would go through four phases. The COVID-19 pandemic required a speedier process to facilitate an aggressive response to the virus.
Since the onset of the coronavirus pandemic, many research organizations investigating potential COVID-19 therapies and vaccines applied to the FDA for emergency use approval (EUA). As a result, several companies that received EUA conducted investigational trials on shorter timeframes.
COVID-19: Exciting and Trying Times
There were reports showing research yielding a likely COVID-19 vaccine in as few as 65 days. Top researchers said that COVID-19 vaccine development was still in its early stages, as were studies of potential therapies and immunity studies of SARS-CoV-2 antibodies.
However, with EUA in place, many researchers utilized remote blood sampling and virtual clinical research to fast-track their trials and help their participants remain safe at home while doing their part to advance science and medicine.
Virtual Clinical Trials Follow the Same Safety Regulations
Whether a clinical trial is virtual or onsite at a facility, the US Food and Drug Administration (FDA) only approves strictly regulated clinical trials. There's a continued need for people to participate in trials to determine the effectiveness of a drug, vaccine or device in different populations. Virtual or decentralized clinical trials make participation easier.
Protocols to Ensure Safety of Clinical Trial Participants
Many people may be hesitant about participating in clinical trials because they perceive a new drug or device as "untested" and, therefore, unsafe. However, strict rules have been established to ensure that pharmaceutical companies and other medical organizations follow safety and privacy guidelines during all phases of testing.
These rules were imposed by our government to provide safety protocols that all researchers must follow when performing pre-clinical and clinical trials. The same rules apply if they plan to conduct the trial utilizing remote sampling and virtual communications or technologies.

An institutional review board (IRB) is first established to review the study, assess its potential results on participants, and approve the trial. A data and safety monitoring committee supervises the clinical trials along with the IRB. A study progresses through several phases before it reaches the clinical trial phase involving human participants.

Before joining a clinical trial, participants are informed about the outcomes of the pre-clinical investigations, including possible side effects. Participants are advised that they will be monitored closely throughout the trial — either in person or via remote care pathways — to ensure their safety and well-being. If the treatment under trial causes adverse effects, the committee and the board will stop the trial.
Telehealth & Telemedicine: Virtual Trials Use Telecommunications
When organizations pursue virtual clinical trials that utilize remote sampling and remote clinical monitoring, they need to communicate instructions and information about the trial using all available channels. It's important to supply participants with mailed information in print, as well as digital information via email, digital apps and the trial's website.
Volunteers should have easy access to the clinical support team via phone, facetime (video chat), and other channels at all times. Clear and effective messaging using telehealth tools and telecommunications will help trial coordinators recruit and retain volunteers, and will help trial subjects feel safe and confident.
The Benefits of Participating in Virtual Clinical Trials Include:
Chance to try a new treatment or technology for potential benefit before it's available for commercial use


Close monitoring and care from the medical team during treatment, typically via phone, email, video chat & online portals


Access to healthcare resources and support


Opportunity to actively participate in advancing medicine & science from the comfort of home, with minimal visits to the trial site.
Explore microsampling for virtual or decentralized clinical trials:

Image Credits: Trajan, Neoteryx, Shutterstock
Receive Blog Notifications