9 amazing projects at leading children's hospitals
by Neoteryx on Oct 16, 2018 4:22:00 AM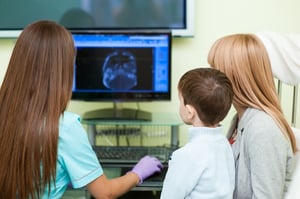 Some of the most interesting and groundbreaking research in healthcare - particularly in the field of pediatrics - emerges from children's hospitals. Here are some exciting pediatrics projects underway at some of the best children's hospitals around the globe.
Cincinnati Children's Hospital - One of their current projects is research on a better way to transplant bone marrow. This research is meant to help in the treatment of leukemia and other immune deficiency problems. It will not only help children, but will be useful to older people, too.
Children's Hospital Of Philadelphia - CHOP is currently undertaking research on medical marijuana in the treatment of children with autism spectrum disorder (ASD). This is following a study showing that marijuana's cannabinoids are capable of treating some symptoms of ASD.
The Royal Children's Hospital, Melbourne - The hospital has developed a new application known as Emergency Nurse Practitioner. The app helps the children's emergency departments by providing treatment information to the less experienced pediatricians.
Dana Dwek Children's Hospital, Tel Aviv - The hospital has contributed to the field of pediatric surgery through an innovative project in microsurgical reconstruction. This process involves transplantation of tissue from large groups of muscles to treat partial paralysis.
Children's Hospital Los Angeles - This hospital is undertaking clinical trials for neuroblastoma. The trials have so far shown that combining chemotherapy with a compound known as alisertib brings an anti-tumor activity in patients.
Mattel Children's Hospital at UCLA - One of the groundbreaking projects of this hospital is the development of methods to treat and repair pectus excavatum, which is also referred to as ''sunken chest syndrome.''
UCSF Benioff Children's Hospital - This hospital has made great progress in the treatment of neuroblastoma. Clinical experiments on neurosurgery, bone marrow transplant, among others are ongoing.
University Of Chicago Medicine Comer Children's Hospital - This hospital is known for its research on childhood leukemia. Through this research, scientists have made huge progress. Further research and trials on leukemia are underway.
Nottingham Children's Hospital - This hospital focuses on early research trials into high risk and complex treatments. Their research contributes to understanding things like drug therapy which are important in pediatrics and adults' treatment.
These are only a few of the key contributions in pediatrics made by the world's children's hospitals. With such research in progress, the future of medicine, and more specifically pediatrics looks ever brighter.
No Comments Yet
Let us know what you think
Receive Blog Notifications