Quest Diagnostics adds at-home collection to expand blueprint for athletes™ service using mitra microsampling technology
by Neoteryx, on June 22,2017
Fitness devotees and amateur and competitive athletes can now access sports biomarker testing from their home with a suite of expanded capabilities from Blueprint for Athletes, the biomarker testing service from Quest Diagnostics (NYSE: DGX) that gives athletes insights on their own biology to help improve fitness and performance. The new services feature a Field Kit for at-home specimen collection using the Mitra® Microsampling device designed and manufactured by Neoteryx, which allows highly precise collection.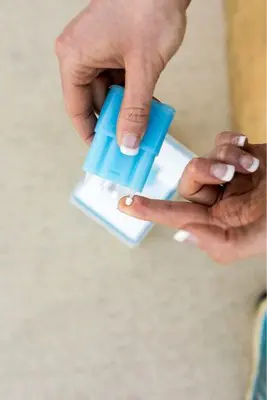 With at-home sampling, an individual simply orders online, receives a kit with the device in the mail a few days later, collects a few drops of blood from her or his fingertip, and drops the sample in the mail to the lab. At-home collection sampling is now available as part of the Blueprint for Athletes Hormone package, and is expected to be made available with other Blueprint for Athletes services later this year.
"Based on our 50 years of diagnostic innovation, Quest is uniquely positioned to bring new capabilities to the consumer market," said Jay Wohlgemuth, M.D., senior vice president, research and development, and chief medical officer, Quest Diagnostics. "The microsampling and concierge options complement the overall enhancements to our Blueprint for Athletes offering, empowering individuals to pursue their athletic and fitness pursuits armed with the individualized insights only state-of-the-art biometric lab testing can provide."
Blueprint for Athletes is now available for order in 33 states via its website. Because Blueprint for Athletes is based on medical-grade diagnostic tests, it is subject to several federal and state regulations. These regulations vary somewhat by state, which means availability can vary by state as well.
"With these new services, athletes have the flexibility to choose options that offer convenience in their busy lives and meet their fitness objectives, backed by scientific expertise from the world's largest medical diagnostic provider," said Richard C. Schwabacher, executive director, sports science and human performance, Quest Diagnostics. "Based on actionable information from their test results, athletes can design a program to achieve their personal best."