Neoteryx Tailors Mitra Collection Kits for Kids
by Neoteryx, on December 1,2021
December 2021 — US-based medical device company Neoteryx announces its user-friendly at-home specimen collection kit for children in support of labs and research customers that conduct pediatric studies, clinical trials and children's health programs around the world. The pediatric version is a modification of the company's popular Mitra® Collection Kit to now include contact-activated medium flow BD Microtainer® Pink Lancets with a fine-gauge needle (21 G x 1.8mm depth) for a gentler finger-prick approach to blood collection. The pink lancets are intended for collecting samples from kids aged one year and older, as well as from older adults who have delicate skin.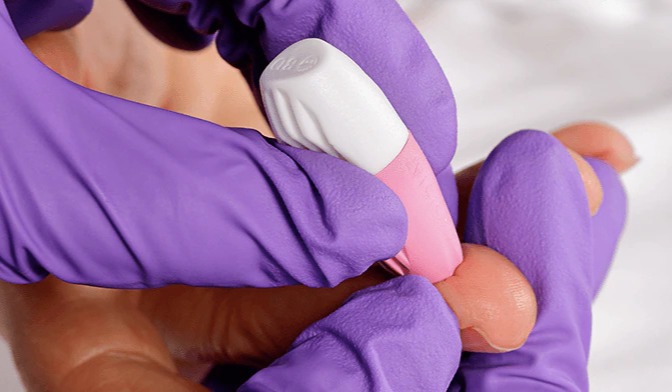 "Our customers conducting research in children and other vulnerable populations expressed a wish to ensure a nearly painless sampling experience for their study subjects," said James Rudge, PhD, Technical Director, Neoteryx. "Pediatric researchers can now purchase Mitra® Collection Kits for children's studies that include pink lancets to enable delivery of a gentler sample collection experience."

Modifying the Mitra Collection Kits with pink lancets may also be suitable for study subjects who experience needle anxiety or stress during blood collection procedures. "People may feel more at ease knowing that the pink lancets feature a tiny, delicate needle, yet when paired with Mitra devices that have 10µL and 20µL absorbent VAMS® tips, they still produce a medium flow that is sufficient to collect good sample volumes," Dr. Rudge added.

Where greater blood volume is needed for certain studies, the traditional Mitra Collection Kit containing the high-flow BD Microtainer Blue Lancet (1.5mm blade x 2.0mm depth) will work best with Mitra devices that have 30µL VAMS tips. Both traditional and pediatric Mitra Collection Kits from Neoteryx include multiple lancets inside the kit box. Typically, only 1 finger-stick is needed to collect enough blood to fill a Mitra device, but the extra lancets are provided as a back-up measure.

The company extends its gratitude to the many collaborative customers who have shared their experiences about using Neoteryx's volumetric absorptive microsampling products in their work with pediatric study subjects and families. Real-world feedback helps the company advance its product offerings to meet the needs of the broader microsampling community.
Customers who wish to order Mitra Collection Kits tailored for pediatric studies can reference Part Number 200505: 20uL 2-Sampler Cartridge Collection Kit with BD Pink Lancets. If a customer is working with newborns or infants younger than 12 months or needs additional components in their kits or other customizations, they can reach out to a Microsampling Specialist at Neoteryx for more information: info@neoteryx.com.

About Neoteryx
Neoteryx LLC, a medical device company in Southern California, delivers simple, quantitative and automatable microsampling solutions. Its Mitra® device facilitates remote specimen collection and transport of blood and other biological fluids to improve human health, reduce laboratory costs and enable new models of care. Neoteryx's customers include scientific researchers, laboratories and health providers working to advance telemedicine, pharmaceutical development, biotechnology research and clinical diagnostics. For more information, visit www.neoteryx.com.

Mitra devices are intended as a specimen collector and for the storage and transport of biological fluids. They are CE-IVD self-certified in the UK and EU, a Class 1 IVD in Australia, Brazil and China, a Class B in South Africa, and registered with health agencies in Canada, Thailand, and Ukraine. In the United States, Mitra devices are for Research Use Only (RUO). In some countries, Mitra devices may be used in clinical diagnostic laboratory systems after the laboratory has validated their complete system in compliance with relevant rules and regulations. Neoteryx operates a Quality Management System (QMS) that is based on FDA good manufacturing practices, 21 CFR 820 regulations, and ISO-13485.
Image Credits: BD Microtainer images courtesy of BD (www.bd.com), Neoteryx