how fingerstick blood testing is changing healthcare
by Neoteryx | 2 min read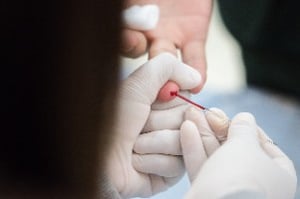 The ongoing COVID-19 pandemic has spawned significant changes in our healthcare sector. The most notable change has been accelerated adoption of the fingerstick method for remote blood collection. This technique allows patients to draw blood samples in their homes, eliminating the need for clinic or lab visits for a blood draw.
What Is a Finger Stick Blood Test?
A "fingerstick" is a minimally invasive procedure using a lancet to draw a drop or two of capillary blood from a finger. It's also called finger-prick sampling or blood microsampling. Using the fingerstick method, 5-30 ul of blood can be collected from a fingertip for lab analysis. For newborn infants, 1-3 drops of blood are collected from a "heelprick" instead. The specimen is collected using filter paper, a tiny glass tube, or the absorbent tip of a microsampling device like the Mitra® microsampling device. With the fingerstick or heelstick method, the blood sample is allowed to dry and is analyzed in the lab as dried blood.
Here are some ways that fingerstick blood testing is changing the healthcare landscape:
Hospital and Clinic Care
Fingerstick blood testing is an approach that minimizes the stress and pain associated with venous blood draws. With venous blood draws, a phlebotomist uses a needle to puncture the patient's vein and direct the blood into glass tubes. The tubes typically contains citrate additives that prevent coagulation.
The blood draw process can be stressful for kids and patients who have anxiety around needles, as well as those who must undergo frequent blood testing. It can also be challenging for phlebotomists to find veins in patients who have chronic illnesses or delicate skin. In pediatrics and many other cases, fingerstick blood collection is a patient-friendly alternative.
Telemedicine and Telehealth
The ongoing need to adapt telehealth and telemedicine applications for remote care pathways has made the fingerstick method a go-to choice for collecting blood samples. As a result, many labs are sending Mitra microsampling devices to patients for at-home blood collection. The blood collection kits are designed for easy remote blood collection without a health worker or a phlebotomist. The kits include detailed instructions and all the necessary supplies. Once the blood sample is collected, it's mailed to the lab for analysis. When results are ready, healthcare practitioners then follow up with patients via telecommunications for remote patient monitoring.
Personal Health and Wellness
Modern patients want to be in control of their health. Most healthcare institutions are fine-tuning their caregiving approaches to be more patient-centric. Remote patient monitoring through remote specimen collection and microsampling has emerged as the dominant disease-management and patient-centered care method because it's convenient and allows total patient participation. That's why many wellness companies continue to provide portable Mitra® devices in their health kits that can be ordered online for home use.
Public Health Studies
The fingerstick blood collection method makes it easy for researchers to collect blood samples when studying the health of large populations or local communities. During an ongoing pandemic, such as COVID-19 that requires people to remain indoors, researchers can deploy home-health blood collection kits for serology studies. They can also use remote kits to gather other at-home specimens from people for large-scale public health surveys.