did you know? you can draw your own blood at home
by Neoteryx on May 4, 2020 9:30:00 AM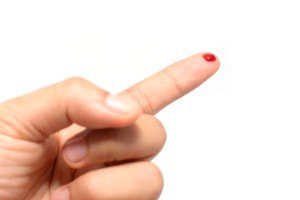 A growing need for patients to take a more proactive role in their health has led to recent trends in "patient-centric medicine" and "telehealth." Healthcare providers who need to monitor patients on a frequent basis, or clinical trial managers who want to recruit participants in remote locations can now use tools and technologies that allow them to conduct virtual check-ins with trial recruits or patients. At-home blood collection with patient-friendly kits is a helpful tool for "going virtual" with patient monitoring and care.
Patient-Directed Self-Care Is Convenient and Cost-Effective
Medical devices packaged in at-home collection kits are now available that providers can mail to their patients to facilitate patient-directed monitoring at home and virtual health check-ups. For example, the at-home Mitra Blood Collection Kit an be used by anyone to collect their own specimen and mail it back to their provider or lab for analysis.
With at-home kits, there is no need for a nurse, phlebotomist or other care provider. At-home specimen collection saves patients and clinical trial participants unnecessary travel to the clinic, doctor's office or lab. This remote option is more convenient and less stressful for patients, and also helps the healthcare industry to minimize costs.
Remote specimen collection that can be self-managed by patients has become an effective means of enhancing quality and lowering costs, so more labs are launching these services. Exagen Diagnostics has been providing home specimen collection services to patients receiving therapeutic drugs. Exagen is offering the at-home blood sampling kit for patients undergoing Therapeutic Drug Monitoring (TDM) for Rheumatoid Arthritis. The collection kit allows patients who are taking therapeutic drugs to make finger-stick blood draws at home and mail their specimens to the lab. This at-home option is a welcome alternative for patients who would otherwise have to visit a lab or clinic for blood draws.
Recently, labs have started providing the at-home blood collection kits to regular patients who are seeking a safe, at-home alternative to blood draws in the lab. The finger-stick technique eliminates the need for painful arm draws (venipuncture), and patients don't need to visit labs or clinics for routine checks. In some cases, patients can order an at-home blood collection kit online from their lab or provider's website. The collection kit is mailed to them. Once patients collect their blood samples, they seal them up and send the collection kit back to the lab for testing.
Advances in technology have led to the development of improved home specimen collection devices like the Mitra blood collection kit. It is sold to research scientists conducting studies and healthcare professionals conducting clinical trials or public health surveys. These professionals then distribute the Mitra kits to their patients or study participants for remote collection and shipping from anywhere.
Benefits of At-Home / Remote Mitra Blood Collection Kits
Draws a small amount of blood in comparison with venous blood draws

Finding a vein in kids/elderly patients can be traumatic; finger-pricks are faster/easier

Generates more reliable data in comparison with traditional blood collection methods like venous sampling

Minimal training required on how to use the collection kit (simple instructions provided)

People located in rural/remote areas can mail in their blood samples for testing

The finger-stick collection procedure is less-invasive, less stressful

Using the at-home device for clinical trials increases participation.
How to Use a Mitra Microsampler at Home
Clean and dry your hands.

Prepare the lancet included in the kit and prick any finger.

Be sure to prick the side of the fingertip, which is less sensitive.

Squeeze the finger to stimulate blood flow.

Take the Mitra tip and allow it to absorb the blood. (The tip should point downwards when collecting the sample from your fingertip.)

Seal the Mitra tips in the kit package for mailing.
The Mitra Blood Collection Kit has simple packaging, easy instructions and provides a straightforward method of blood collection, making it convenient for anyone to use anywhere.
Receive Blog Notifications