5 points to consider when reopening your medical practice or clinic
by Neoteryx Microsampling on Jul 17, 2020 9:00:00 AM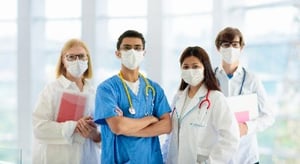 Like many physicians, you may be preparing to reopen your medical practice and welcome patients back for in-person visits. Due to the coronavirus pandemic, most medical practitioners were limiting in-person healthcare visits from March to May 2020, and only seeing their chronic patients or those in dire need of care.
The decision to reopen and provide in-person care requires medical practices to comply with governmental guidance. The White House has published guidelines for Opening Up America Again, which clinics should adhere to.
At the state level, governors are providing detailed reopening templates for medical practices. Healthcare providers and clinics will need to check with their local government for any state-specific protocols and adhere to all applicable guidelines.
Here are 5 essential points you should consider when reopening your practice:
1. Make a Plan
A safety plan is critical to reopening your medical practice confidently and successfully. The plan should include the expected reopening day, list all precautionary measures and PPE needs, assess current stock, and prepare for emergencies. Be sure to have the PPE gear restocked before reopening to avoid disrupting your daily plan.
Generally, the supplies should last at least 2 weeks before the need to implement emergency PPE conservation measures. Also, consider how you will deal with staffing and cleaning if an employee, visitor, or patient is diagnosed with the virus following a clinic visit. The plan should include an exposure level assessment. A determination should be made for how long employees that interact with an identified coronavirus patient should be out of the clinic.
2. Open the Clinic Incrementally
Schedule a few in-person visits each day—spaced well apart to minimize contact—and also continue using virtual visits, or telehealth, for a while. This incremental approach will help you identify and address practical challenges as they arise.
It would also help if employees returned in phases, on alternative days, or at different times according to staggered scheduling to minimize contact. All onsite staff and providers should wear face masks. Most administrative employees could stay home and work remotely until you have completely reopened the practice.
3. Outline Safety Measures for Employees and Patients
Develop a schedule to avoid crowding the waiting rooms with patients and front desk staff. The schedule should be flexible enough to allow you to consult with a pre-determined number of patients to avoid delays.
Ensure patients are accompanied when necessary. Both the patient and the accompanying caregiver should wear a disposable surgical mask or cloth face covering. The safety guidelines should also outline how you plan to screen patients before they enter the clinic. Consider deploying staff in designated areas of the building to screen patients upon entry.
4. Coordinate Tests with Other Clinics
Some patients may need COVID-19 testing, especially before scheduling their in-person clinic visits. You can arrange to partner with approved testing sites in your area to help coordinate this. Contact the test providers before sending patients to their testing site to ensure they have enough testing devices or kits available. Ask what the turnaround time for the results will be, and map out your patient schedule accordingly.
If your clinic or facility provides elective procedures, such as outpatient surgeries, you may need to create a formal system for conducting COVID-19 tests before any procedure. Practices that don't have testing services onsite or nearby may be able to offer patients at-home specimen collection for lab testing. Many home health kits that can be shipped out to patients are now available, and include devices for taking a nasal or oral swab to be tested for live virus, as well as devices for taking capillary blood samples from the fingertip for serology testing of SARS-CoV-2 antibodies in the lab.
If your practice works with a clinical lab that can process both COVID-19 swabs and dried blood samples, consider coordinating with the lab to arrange for patients to send their self-collected samples from home directly to the lab for testing. If you wish to include blood samples for SARS-CoV-2 antibody testing, consider using remote Mitra® microsampling devices from Neoteryx, or the company's Mitra® Blood Collection Kits for at-home collection. These devices deliver precise blood samples that enable labs to test for antibodies, as well as other clinical data needed by physicians to clear patients for medical procedures.
5. Consider Legal Implications
Acquaint yourself and your staff with any new legal obligations that come with reopening the practice during a viral pandemic. For example, the Families First Coronavirus Response Act states organizations must allow employees to apply for paid sick leaves. It is imperative to outline the procedures for sick leave applications as soon as possible.
Creating and implementing a plan that covers all contingencies will help you and your staff better manage the day-to-day challenges of reopening your practice in a new and challenging healthcare environment.
No Comments Yet
Let us know what you think
Receive Blog Notifications