VAMS to measure Phe in a phase 2 PKU clinical trial
by James Rudge, PhD, Microsampling Technical Director on Oct 23, 2023 9:00:00 AM
An article by Lan Gao et al, at PTC Therapeutics in the United States published in the June 2023 edition of Clinical Biochemistry, described a validation and phase 2 clinical trial of a VAMS method to measure phenylalanine (Phe). The paper is entitled "Validation and application of volumetric absorptive microsampling (VAMS) dried blood method for phenylalanine measurement in patients with phenylketonuria." The researchers applied Mitra® microsampling devices based on VAMS® technology to collect finger-stick blood samples for their study.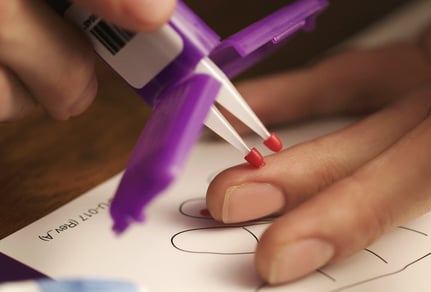 The study showed excellent concordance between capillary dried blood and plasma for Phe in a n=24 patient cohort.
The researchers were able to report that concordant results were obtained using VAMS and plasma methods, which demonstrated that "VAMS is a reliable method for clinical applications to monitor blood Phe for PKU patients."

Background on Phenylketonuria (PKU)
PKU is an autosomal recessive disorder affecting both physical development and neurodevelopment, leading to premature death. From a biochemical perspective, the genetic disorder leads to a deficiency in an enzyme called phenylalanine hydroxylase, which functions to catalyze the conversion of phenylalanine (Phe) into tyrosine. In the absence of phenylalanine hydroxylase, the amino acid is converted into the brain toxin, phenylpyruvic acid by the action of a transaminase.
Diagnosis of PKU
Up until the 1950s, the way to diagnose PKU was to measure the build-up phenylpyruvic acid in urine by reacting it with ferric chloride. Although this test was accurate, it was not sensitive enough to detect all cases in time for early intervention. For this reason, irreversible brain damage often occurred in those afflicted with the condition.
Early approaches to diagnosing PKU changed with a man named Robert Guthrie, MD, PhD. He was a medical doctor and research scientist who had earned his doctorate at the University of Minnesota. His initial research focus was on bacterial inhibition assays to study antibiotic sensitivity.
In 1947, his second son, John, was born with a neurodevelopmental disorder and, despite his best efforts, Dr. Guthrie was unable to find a diagnosis or treatment for his son. In 1957, his 15-month-old niece was diagnosed with the developmental condition called phenylketonuria (PKU), which led Dr. Guthrie to research PKU.
In 1958, after watching a lecture on children with developmental disorders by Dr. Robert Warner from the Children's Rehabilitation Center at Buffalo Children's Hospital, Dr Guthrie moved to Buffalo Children's Hospital to work on a more sensitive assay for diagnosing PKU. Dr. Guthrie believed that earlier diagnosis would allow for earlier intervention using bacterial inhibition, his area of expertise. At the time, the only treatment for PKU was to put the patients on a low phenylalanine (Phe) diet, but this only worked if physiological damage had not yet occurred.
In 1960, Dr. Guthrie's work led to a PKU screening trial using dried blood spot (DBS), which involved collecting dried capillary blood spot samples on disks of filter paper from PKU patients.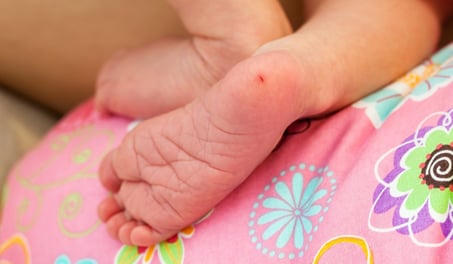 The phenylalanine enriched blood acted to overcome the Phe antagonist B-2-thienylalanine impregnated in agar plates cultured with Bacillus subtilis. This led to bacterial blooms around disks from PKU patients.
In 1961, Dr. Guthrie began to run routine neonatal dried blood spot testing for PKU. This was the beginning of what has since become a highly successful neonatal screening protocol in hospitals where up to 50 conditions can be screened in blood samples for inborn errors of metabolism.
New Treatments for PKU
Nowadays, in addition to a phenylalanine restricted diet, there are two other treatments for PKU. The first is to replace the defective phenylalanine hydroxylase with a treatment called Pegvaliase. The second is called sapropterin dihydrochloride which, in combination with a phenylalanine restricted diet, acts to lower levels of the amino acid.
One of the challenges to monitoring Phe levels using dried blood spots (DBS) is the inherent error observed with DBS technique and sample quality, stemming from a number of hematocrit effects. For example, one PKU study using DBS to measure Phe noted that 47.7% of the DBS samples would be rejected due to quality issues.
It is for this reason that Lan Gao et al at PTC Therapeutics decided to employ a more precise volumetric microsampling approach using Mitra® devices with VAMS® technology for a phase 2 randomized, crossover PKU study of sepiapterin. In their paper, the study authors noted that the VAMS technique negated some of the core disadvantages of DBS such as "the HCT effect, humidity, volume inaccuracy, and drying time, all of which can influence results."
Highlights from the Method Validation and Clinical Trial
An LC-MS/MS method was fully validated in accordance with the Food and Drug Administration (FDA) and European Medicines Agency (EMA) bioanalytical method validation guidelines. Highlights include:
Due to the natural occurrence of Phe in blood, the research group used a stable label Phe surrogate (2,3-13C2,15N-phenylalanine) and a related molecule (13C9,15N-phenylalanine) for the internal standard.
Phe was stable on Mitra for 232 days at room temperature and 15 days at 45 °C


In terms of HCT effect, %bias and %CV was within ±15%.



Patients were given sapropterin dihydrochloride (20 mg/kg/day) or PTC923 [sepiapterin] (20 or 60 mg/kg/day).


Multiple paired samples (venous plasma and capillary blood VAMS) were taken (n=312, 247) with only a 4.81% rejection rate.


Out of these, 15 samples were under-sampled and 9 were over-sampled (overfilled).


The overfilled samples were still within –14.6% to 6% of the plasma samples.


When these were identified, site staff were retrained on correct sample collection techniques and the remainder of the samples were correctly filled.


When comparing to the standard plasma method, the Passing-Bablok regression analysis for VAMS was 9587* Plasma Method + 0.6359 (95% CI for slope 0.9370 to 0.9790 and intercept –5.804 to 8.469).


The Bland

-

Altman bias test (based on proportional difference) showed the data were evenly distributed above and below the mean (–0.04246; 95% CI –0.05904 to –0.02589



The small negative difference observed from the Bland

-

Altman (–4.25%) and Passing

-

Bablok (

–

4.49%) on Mitra devices was well within what was acceptable in order to see a clinical change. Moreover, the group commented that as there was no standard method for measuring Phe in blood, these 'bias' values reflected the difference between the two methods rather than one method being more accurate than the other.
Study Authors' Concluding Remarks
The VAMS dried blood assay was developed for Phe following regulatory guidelines.


Samples could be collected from home in accordance with Good Clinical Practice (GCP).


Sample acceptance rate was far better than what had been previously reported.


The difference between plasma and VAMS sampling was less than 5%.


Data from VAMS samples showed that Phe reduction was significantly greater for those taking PTC923 60 mg/kg/day compared to sapropterin dihydrochloride 20 mg/kg/day.


VAMS is currently being used in a phase 3 clinical trial studying PTC923 and will be used in future studies.
Neoteryx Comments
This phase 2 randomized, crossover PKU study of sepiapterin by the team at PTC Therapeutics shows promise for future PKU interventions and is a testament to the legacy of Dr. Guthrie.
It is interesting to speculate that if Robert Guthrie were alive today, he would be amazed to see the evolution of a technique that he invented back in the early 1960s, which is still going strong today. Moreover, that in the ensuing years, PKU, a disease for which there was no treatment prior to his genius idea to use dried blood spots, is now increasingly treatable. What's more, he'd be surprised to see that research is still ongoing to lessen the burden of the disease and similar conditions.
The world owes Dr. Guthrie a debt of gratitude for chasing what was an incredibly simple but brilliant idea that has led to millions of lives being saved and improved by the monitoring a few small drops of blood.
This blog includes content curated from a published study paper that was summarized for our readers by James Rudge, PhD, Microsampling Technical Director. To learn more about the important research discussed here, please visit the original article in Clinical Biochemistry.
No Comments Yet
Let us know what you think
Receive Blog Notifications