mobile phlebotomy vs. patient-managed blood collection: pros and cons
by Neoteryx on Jul 6, 2020 9:00:00 AM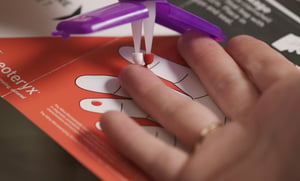 The COVID-19 pandemic is lingering a little longer than we expected. The pandemic has dramatically impacted health institutions and other organizations, requiring them to restructure and redefine their practices in many ways. Blood collection for lab testing and patient monitoring is an area of healthcare that has been altered to keep staff and patients safe during (and after) the pandemic. Innovations like mobile phlebotomy and patient-managed blood collection have changed the way we think about specimen collection.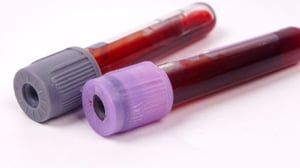 Traditional approaches to medical diagnosis and health monitoring require a patient to meet with a physician, then a visit to the lab, hospital or clinic for a venipuncture blood draw (puncturing a vein in the arm) so the lab can run some diagnostic tests. Then patients return to the doctor for follow-up to discuss the lab test results and next steps. The novel coronavirus outbreak has taught us that during a pandemic, each of these onsite visits increases a person's risk of contracting the deadly virus. Healthcare providers have realized they needed to establish safer practices for blood collection to help reduce unnecessary in-person visits and potential exposures.
In an effort to reduce the number of non-emergent visits to hospitals and other care facilities, many health organizations have adopted safer blood collection processes by leveraging telehealth tools and services. Two methods that have proven effective are mobile phlebotomy and remote, patient-managed blood collection.
Mobile Phlebotomy
Mobile phlebotomy can be arranged by healthcare systems whereby they deploy a phlebotomist to a patient's home or other external site if the patient can't visit the hospital. The phlebotomy professional schedules a "house call" and follows safety protocols to draw blood from a patient in their home. The phlebotomist transports the blood sample to the lab for analysis.
Many patients benefit from mobile phlebotomy, especially the elderly, those with chronic ailments, and those who are physically challenged. A mobile phlebotomy service can be convenient for care centers or nursing homes, which sometimes have difficulty taking residents to a hospital for blood tests. Patients with busy schedules or transportation problems also benefit from mobile phlebotomy.
Pros
Ability to collect wet blood – Mobile phlebotomy involves collecting vein-direct blood via venipuncture. Traditional venipuncture blood draws are suitable for collecting wet blood when a full blood panel has been requested.

Avoids complicated appointment-setting – At-home blood draws are done on patients' schedules in their home. Patients avoid waiting rooms and queues.

Flexible scheduling – Mobile phlebotomy enables patients to schedule blood draws to meet their schedules. This is particularly useful for patients living in assisted living facilities who have designated times for eating, entertainment, and medical care.

Less need for patient mobility/transportation – The obvious benefit of this arrangement is that the patient doesn't need to visit the lab or hospital. This minimizes the patient's exposure to viral pathogens and other contagions.
Cons
Risk of exposure – Mobile phlebotomy presents a range of advantages, but it poses some exposure risk to health workers and patients. Workers may contract or transmit a virus when traveling to and from patients' residences. Phlebotomists also have some risk of contracting blood-borne pathogens like Hepatitis C, Hepatitis B, HIV, and viral hemorrhagic fevers.

Invasive in nature – Traditional phlebotomy with a blood draw from a vein in the arm is an invasive blood collection technique. It can be painful and may cause light-headedness, fainting, or stress and anxiety.

Poor blood sample collection – Depending on the skill level of the phlebotomist, the sample may be poorly collected, causing inaccurate and/or misleading results. As a result, the patient may need to repeat the test, causing additional exposure and stress.

Need for cold storage – Samples of whole blood that are collected in tubes require cold storage and shipping, which means they must be kept on ice.
Patient-Managed Blood Collection
In recent years, more healthcare institutions have started offering remote, patient-managed blood collection methods versus mobile phlebotomy. One effective technique for patient-centric sampling is the volumetric absorptive microsampling, or VAMS® method. It involves the patient using a simple finger-stick method to collect a small drop or two of capillary blood from their fingertip. The blood drops are absorbed onto the tip of a Mitra® device, which is designed with VAMS to absorb a scientifically precise volume of blood for lab analysis.
The Mitra with VAMS provides a safer and easier blood collection technique that virtually anyone can use to collect their own blood sample at home or anywhere that is convenient. The hospital or lab only needs to liaise with the patient to send them a blood collection kit.
When the Mitra® Collection Kit arrives at the patient's home, they simply follow the instructions and use the supplies in the kit to collect a blood sample, repackage it, and return it by mail for processing at a designated lab. Once the patient has collected their blood sample and placed it back in the package for mailing, the specimen is considered a dried blood sample. The at-home specimen collection process is very user-friendly, and there's no need for a professional phlebotomist or a visit to the clinic or lab.
Pros
Dried blood samples – Patient-managed blood collection with Mitra is designed to allow the blood sample to dry on the device for easy shipping and sample stability. Labs can process dried blood samples, or DBS, for testing and research. Wet blood samples in tubes are much more difficult and costly to store and transport.

Minimally invasive – Finger-stick blood sampling is minimally invasive when compared with venipuncture in the arm. At-home blood collection kits are equipped with lancets that make it easy to prick the fingertip to collect a small amount of blood. The process is swift and needs little preparation, reducing discomfort and anxiety.

Improved stability and reduced risk of contamination – Patient-managed blood collection minimizes the risk of contamination. The collected samples are dried at home and repackaged for mailing without any refrigeration or special storage requirements. Dried blood Mitra samples, for example, remain stable in ambient conditions like humidity and warmer temperatures that might destabilize other types of blood samples.
Cons
Repeated finger-sticks of the same area can cause sensitivity.

Some tests can't be done using capillary dried blood samples.

At-home blood collection must be done correctly to produce a high-quality blood sample, though most patients can follow instructions carefully.
Receive Blog Notifications