is the U.S. 'remotely prepared' for coronavirus (COVID-19)?
by Neoteryx Microsampling on Mar 30, 2020 2:00:00 PM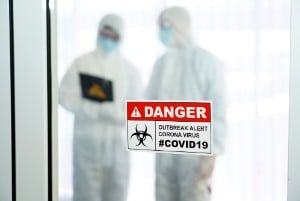 Fear over the recent coronavirus outbreak continues to manifest in extreme ways. Retail stores have run out of hand sanitizers; the stock market has plunged, and healthcare institutions are overwhelmed.
The pandemic echoes the country's unpreparedness for the disaster. When the U.S. received news of the first person diagnosed with COVID-19, the CDC (Centers for Disease Control) only confirmed positive for the disease the next day after using FedEx to ship the patient's samples.
This delayed medical testing across the country makes it difficult to determine how widespread the virus is and to respond. The World Health Organization (WHO) emphasized the global risk of coronavirus spreading and its impact was extremely high. So why does the U.S. still seem unprepared despite receiving such a high level of alarm?
Delayed Tests
The U.S. remains behind when it comes to testing people for suspected COVID-19. This is because the CDC decided to create its own testing kit instead of using those recommended by WHO. When the CDC finally managed to develop its testing kits, it sent them to various labs across the country.
However, a problem in the kits made them unusable, leaving only five state health departments (Nebraska, Tennessee, California, Nevada, and Illinois) equipped to test the virus. This limitation has created such a backlog in testing samples that patients need to wait for days to receive results.
While other institutions are working to set up testing facilities, they need to file an application with the FDA and get approval for new testing protocols. Also, scientists must verify and run the existing CDC test to diagnose SARS-CoV-2.
Strict Protocols
According to the CDC, only specific people can take the diagnostic test for COVID-19. Patients must be suspected to have contracted the virus and meet additional criteria, including having a fever. Such strict protocols are restrictive when identifying people who have the disease because mild COVID-19 cases may not present a fever.
Shortage of Health Workers and Need for Training
William Schaffner, a professor of preventive medicine, emphasizes the need for health institutions to re-educate healthcare professionals about respiratory precautions. Little has been done, according to a National Nurses United survey. It revealed 47% of nurses weren't sure if their hospital had plans to isolate patients suspected of contracting coronavirus. Half weren't sure if their healthcare institutions had enough protective gear to protect staff from the rapid surge of COVID-19 cases.
Such concerns show the U.S. healthcare system is already strained and would hardly contain an influx of coronavirus patients if it happened. This unpreparedness also puts the country at risk of experiencing acute shortages of healthcare workers.
During the recent COVID-19 case in California, a patient sought help at the UC-Davis Medical Center. Following the patient's admission, the healthcare facility sent 88 healthcare workers and 36 registered nurses home to self-quarantine.
High Cost of Medical Care
Expensive medical care may deter people from getting tested in the face of this calamity. Some states like New York have ordered state insurers to avoid charging patients for coronavirus testing, but more needs to be done.
The CDC has outlined preventive measures such as staying home when ill. But federal law doesn't have a provision that requires all employers to pay sick leaves. As a result, employees go to work even when they are sick, which can cause a manageable health crisis to become uncontrollable.
How to Curb the Menace
Leveraging remote sampling will reduce delays in testing samples. Volumetric absorptive microsampling tools like Mitra devices allow researchers to collect research samples remotely. It uses microsampling to yield consistent results comparable to standard phlebotomy.
The microsamples are stable for 21 days at room temperature and 2-5 days at ambient temperatures. This eliminates issues occurring during transportation of samples for testing. It explains why VAMS devices like Mitra may play a critical role in coronavirus applications.
Follow Public Health Recommendations
The public needs to be proactive in preventing the disease from spreading by keeping healthy. Following these health recommendations is one effective way to keep coronavirus at bay. They include:
Calling your doctor before leaving home to reduce the number of people exposed

Covering your mouth when coughing

Reducing face-touching

Staying at home if you feel sick

Using hand sanitizer frequently

Using traditional flu remedies (fever-reducing medication, cough syrup, drinking plenty of liquids) when sick

Washing your hands with soap and water
The US National Institutes of Health (NIH), other governmental institutes, many universities and qualified labs are using our at-home Mitra® Collection Kits to study COVID-19 antibodies. We are rapidly producing Mitra kits to support your work in fighting this pandemic. Access the resources to help you learn more below!

No Comments Yet
Let us know what you think
Receive Blog Notifications