microsampling for toxicology
Frequently Asked Questions (FAQs)
Are microsampling devices being used in toxicology programs?
Yes, microsampling devices based on volumetric technology have been used in toxicology programs to study drugs of abuse and environmental health, among other areas. It would be good to see wider adoption in the field of Clinical Toxicology where it could be applied for greater benefit, though microsampling applications in that field are on the rise. Our Technical Resource Library includes a searchable selection of published literature from some scientists who have overcome barriers and successfully applied remote specimen collection and volumetric microsampling. Type "toxicology" or your analyte of interest in the library's search field to find journal articles, presentations and application notes.
Which analytes or markers have toxicologists studied using microsampling?
Toxicology labs have used microsampling devices to study Phosphatidylethanol (PEth), a highly sensitive and specific blood marker of alcohol consumption. PEth lacks stability in liquid blood, but dried blood microsampling has been identified as an accurate, cheaper alternative that solves the stability issue. Other analytes or biomarkers of keen interest in microsampling studies are opioids, cannabinoids, performance-enhancing drugs, narcotics, and peptides, among others.
Have other analytes been extracted and validated using volumetric microsampling?
Yes, many analytes have been extracted using volumetric microsampling, and are compatible with hemaPEN® and Mitra® devices with VAMS® technology. Type your analyte of interest in the Technical Resource Library search field to find out more about the analytes that others have investigated using microsampling.
How does dried blood sampling compare to urine sampling for toxicology?
Toxicology, antidoping and addiction recovery programs often use urine samples to screen for certain substances. However, many substances are less detectable in urine than they are blood. With dried blood samples, researchers and labs can detect many substances with high sensitivity and specificity. Many analytes will remain stable in a dried blood matrix, while liquid blood in a test tube can degrade over time. To read published journal articles and presentations describing how toxicologists use dried blood microsamples in their work, please visit our Technical Resource Library.
What are the sample success rates for remote microsampling devices?
Sample success rates are high for Mitra® and hemaPEN® devices, which are based on volumetric microsampling. The absorptive VAMS® tips on Mitra can absorb homogenous samples with 99% acceptance rates. By following the illustrated instructions and demo videos available with hemaPEN and Mitra, end-users can reliably collect fixed volume samples that are precise enough for lab analysis.

These volumetric microsampling devices overcome the hematocrit (HCT) bias that may occur with DBS cards, where non-homogenous blood spots on filter paper have higher variability and higher failure rates.
What steps are needed to implement microsampling technology?
The first step in transitioning from other sampling methods to microsampling is an introductory, initial education phase, which may take about 4 weeks. The next steps involve evaluation and validation. The Neoteryx Microsampling Team and Technical Director can provide support through all the steps:
Education:
The introductory phase
Evaluation:
Extraction, linearity & signal-to-noise studies
Validation:
Validating your method
Back to top
Which analytes can you extract from dried blood microsamples?
To find out, download our List of Compatible Analytes!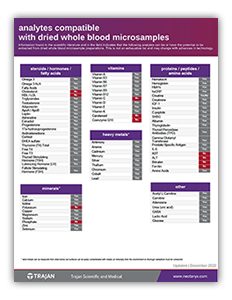 Specific proteins, vitamins, minerals, heavy metals, hormones and other analytes are included in our list. Fill out the form to download the PDF and as a bonus you will also gain access to our technical resource library of published journal articles and resources from your peers who are leveraging microsampling.
Complete Form to Download
innovate your approach to science and research
Advancing to Microsampling Begins With a Conversation.