microsampling in preclinical research
Frequently Asked Questions (FAQs)
Why do preclinical researchers use microsampling in animal studies?
Preclinical researchers use microsampling to help refine their blood collection techniques in an effort to use a less invasive method on all animal laboratory species. Microsampling blood collection methods can be used with mice and other species including rats and other rodents, dogs and non-human primates for toxicokinetic evaluations.
How does microsampling reinforce the principles of the 3Rs in animal research?
Microsampling improves animal welfare programs and reinforces the principles of the 3Rs: Replace, Reduce, Refine. Labs can refine their microsampling methods to reduce the number of mice they use in toxicology studies and toxicokinetic evaluations. For example, you can perform a series of micro-sized blood collections on the same mouse with less impact vs. more invasive sampling methods that only allow you to collect 1-2 time points per animal.
What are the primary drivers for using microsampling in preclinical research?
To achieve the principles of the 3Rs in animal research, including better animal safety and lowered stress on animals. Other top drivers include greater data consistency and cost savings.
What are the primary barriers to adopting microsampling in preclinical studies?
A primary barrier can be that a lab's clients performed their bioanalytical validation prior to their in-vivo studies with a different type of technique (e.g., wet blood in tubes) and they do not want to run another validation or develop a new method of analysis to adopt a new collection device or to switch to a dry matrix technique during their project development. To help overcome this barrier, Neoteryx provides technical advice on using dried matrices and support in conducting bridging studies.

What steps are needed to implement microsampling technology?
The first step in transitioning from other sampling methods to microsampling is an introductory, initial education phase, which may take about 4 weeks. The next steps involve evaluation and validation. The Neoteryx Microsampling Team and Technical Director can provide support through all the steps:
Education: The introductory phase
Evaluation: Extraction, linearity & signal-to-noise studies
Validation: Validating your method
See our Microsampling User Guide for details.
Which analytes have been extracted and validated using volumetric microsampling?
Many analytes can be extracted using volumetric microsampling, and are compatible with hemaPEN® and Mitra® devices with VAMS® technology. Our Technical Resource Library provides information around the types of analytes that have been evaluated by researchers using volumetric microsampling. Type your analyte of interest in our Technical Resource Library search field to find the information you seek.
How does dried capillary blood compare to other blood sources?
Published research papers show that dried capillary whole blood microsamples collected in 10, 20, or 30 µL volumes are enough for good extraction and analysis. These samples also yield high-quality data that are similar to data from venous blood. The literature provides case examples of microsampling in preclinical research applications. Visit the Technical Resource Library to review many comparative studies that describe what others have achieved with microsampling in their research.
What is the cost comparison between dried blood microsampling vs. conventional venous blood sampling?
Dried blood sampling (e.g., using Mitra, hemaPEN or DBS cards) eliminates the requirement of costly cold-chain shipping. Instead, samples can be shipped via standard post. Microsampling further lowers costs by reducing the total number of animals needed for each experiment and reducing the amount of test article needed to dose an animal.

Back to top
Which analytes can you extract from dried blood microsamples?
To find out, download our List of Compatible Analytes!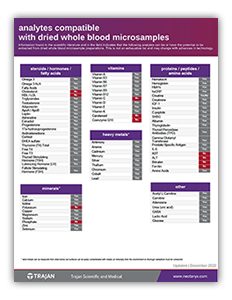 Specific proteins, vitamins, minerals, heavy metals, hormones and other analytes are included in our list. Fill out the form to download the PDF and as a bonus you will also gain access to our technical resource library of published journal articles and resources from your peers who are leveraging microsampling.
Complete Form to Download
innovate your approach to science and research
Advancing to Microsampling Begins With a Conversation.