why a positive patient experience is essential for TDM
by Neoteryx | 1 min read
Improved patient experience of care is a worthy goal in itself, and one of the cornerstones of the IHI's Triple Aim framework, along with the improved health of populations and reduced per capita healthcare costs. It is also a driving force behind increased patient compliance.
Improved patient compliance is an essential factor for better clinical outcomes. It results in improved treatment efficiency and safety, as well therapeutic drug monitoring efficiency.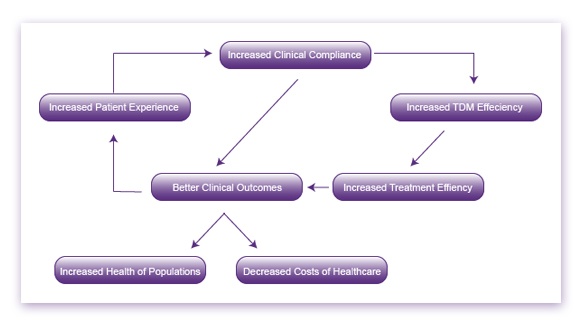 The Healthcare Improvement Loop
Improving Patient Experience (or: How to Close the Loop)
A positive patient experience demands much more than just the best healthcare from a clinical standpoint. It involves every step of the treatment, including how easy it is to schedule and complete the appointment as well as understand and follow the treatment plan. Jin and colleagues identified five categories of factors affecting patient compliance:
Patient-centered factors, such as age, gender and education, as well as psychological factors and relationship between the patient and the prescriber;
Therapy-related factors, such as treatment complexity and administration, among others;
Healthcare system factors, such as accessibility and treatment setting;
Social and economic factors, such as cost and time consumption (inability to take time off work, travel expenses, and more); and
Disease-related factors.
These and other factors can, according to the Agency for Healthcare Research and Quality, improve clinical outcomes directly, or through enhanced therapeutic drug monitoring efficiency.
Dried Blood Sampling: A Method For Improving the TDM Experience
Compared to traditional TDM techniques, dried blood sampling is suitable for self-administered, off-site testing that improves patient experience in several crucial areas:
Comfort – easy-to-use method with a low level of physical discomfort or pain
Cost – no travel costs, with samples suitable for regular mail transportation
Time consumption – fast sampling technique that doesn't require any visits to the clinic (no scheduling, waiting and off-work time)
Revolutionary next-generation remote dried-blood sampling techniques, such as the use of Volumetric Absorbtive Microsampling (VAMS™) technology, improve more than just one link of the healthcare improvement chain. Reliability and cost-effectiveness enable reaching all three goals of the Triple Aim framework directly.