future of precision medical monitoring & diabetes remote monitoring
by Neoteryx | 1 min read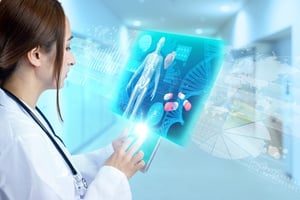 The mHealth industry has rapidly grown over the recent past. Mobile technology is now being greatly utilized and has been lauded as an effective conduit for better healthcare. According to several studies, modern technology including remote patient monitoring has helped patients maintain independence, minimize personal costs, and prevent complications in the comfort of their homes. Precision medicine and remote patient monitoring technologies are a major breakthrough not only for healthcare professionals but also for people with diabetes who have been able to access better care since their inception.
Remote Sampling
A recent study conducted to examine the use of the micro-sampling collection devices so that patients could self-collect a capillary sample from their home or remote clinical site in the future revealed that most patients were at ease with self-collecting a capillary sample at home rather than going to a phlebotomy collection site. Many factors could affect these results; the most conspicuous would be the elimination of the hassles associated with clinic visits and the discomfort of venipuncture. Remote sampling technology also eliminates the costs and inconveniences associated with cold chain shipping or storage, saves lives and expands participant outreach.
Remote monitoring for HbA1C on people with Diabetes
HbA1C is the abbreviation of hemoglobin A1C, which is a form of hemoglobin that is bound to glucose. Remote sampling and monitoring for HbA1C is convenient and saves time and costs. Most important however is its effectiveness through improved outcomes for diabetes patients.
Scientists from Belgium's Ghent University Hospital recently conducted a study in which they looked into the user-friendliness of various sampling techniques as well as the techniques patients preferred to use in the future. Micro and home sampling techniques, in which patients manage their blood samples by themselves, stood out as most popular.
Through such interventions as remote sampling, remote patient monitoring, and precision medicine, management of chronic illnesses has become a lesser challenge to healthcare systems. This is particularly true for patients with diabetes mellitus. The use of technology to implement cost-effective health care management may be the perfect alternative for diabetes management.