how physicians can help patients manage their own health with remote blood sampling
by Neoteryx | 2 min read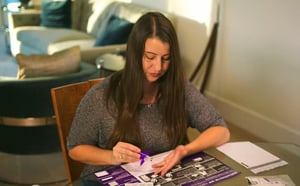 Remote blood sampling has been touted for years as a promising opportunity for shifting to a telemedicine healthcare model. The recent COVID-19 pandemic has underscored its value and accelerated its use. Public health policy measures, which include social distancing and isolating at home during the pandemic, have created fertile ground for more widespread adoption of remote, patient-centric blood collection methods.
Remote blood sampling with at-home health kits makes it possible for physicians and clinical researchers to collect important patient data without in-patient visits. It has become an invaluable method for monitoring patients that need regular care but can't visit the clinic.
Health organizations can send out home health kits for patient-managed sample collection, and the specimen samples can be sent directly to the lab for testing. The doctor then contacts patients via phone, video chat or email with the lab results and provides medical advice to manage health. The entire process cuts back on the number of in-patient visits, significantly minimizing exposure to viral contagions.
Quality of Blood Samples
At-home blood collection devices and kits like the Mitra® microsampling device and Mitra® Blood Collection Kit deliver high quality blood samples. This is because they are based on volumetric absorptive microsampling (VAMS®) technology that enables the collection of a fixed volume of whole blood. The Mitra microsampler has a functional sampling tip that collects small, accurate blood volumes (10, 20, or 30 µL) for analysis with high precision (RSD < 4%). Quantitative sample collection facilitates more reliable lab results.
Getting Reliable Results From a CLIA-certified Lab
Health institutions that provide at-home health kits are required to use labs that have obtained CLIA (Clinical Laboratory Improvement Amendments) certification and follow CLIA lab procedures throughout all testing procedures. Procedures generally stipulate that labs also must have certification from the Center for Medicare and Medicaid Services (CMS) before accepting human samples for diagnostic testing. When these certifications are in place, patients can be confident that the lab results provided are accurate and reliable.
A Proactive Approach to Patient Health Management
At-home health kits engage patients in taking a proactive role in monitoring their own health. The samples collected provide insightful data to their physicians and other health providers.
For example, a dried blood analysis of the blood samples you send to the lab may reveal whether your body has developed antibodies against the deadly COVID-19 virus. Depending on which type of lab test your doctor has ordered, your test results may also show your drug concentration levels, hormone levels, or levels of different biomarkers like minerals and amino acids. The healthcare provider interprets the lab results and, based on that data, recommends steps to manage health conditions.
Pairing Remote Blood Sampling With Telecommunications
Many hospitals and clinics use secure telehealth communication platforms, which are designed to keep your health information secure and private. With these systems, patients can typically communicate only with their doctor on a secured email system. Using a telehealth model, physicians may also communicate with their patients via phone or video chat for remote consultations and follow-ups.
Remote patient monitoring integrated with remote blood sampling can be an effective way for physicians to provide continuing care during the ongoing pandemic, and thereafter.