practicing medicine post pandemic: 4 telehealth tools that work
by Neoteryx | 4 min read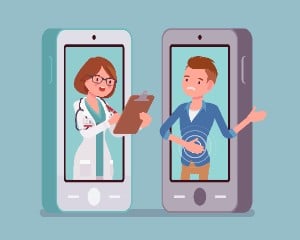 The recent COVID-19 pandemic has overwhelmed healthcare systems around the world. Many institutions don't have the capacity to tend to patients infected by the virus as well as those who suffer from chronic ailments that require ongoing care. As a result, many healthcare institutions have adopted telehealth, or telemedicine, tools. These tools enable doctors to provide virtual healthcare without requiring in-person patient consultations, unless absolutely necessary. As we are nearing the end of the first wave of coronavirus infections, it is now clear that we have to begin early conversations about the steps we need to take post pandemic that will help keep the numbers down and avoid the possibility of a second wave.
Telemedicine has experienced slow growth over the years. Many health institutions and patients have been more inclined to follow traditional in-patient care. What's more, the U.S. federal health insurance provider, Medicare, enacted strict guidelines that prohibited telehealth services for patients ages 65+ living in rural areas.
In the wake of the COVID-19 pandemic, however, such regulations have been lifted and more doctors are using virtual care pathways. Telemedicine has gone mainstream, becoming a critical means of providing healthcare. With telehealth services, doctors can provide remote patient monitoring for those who must stay safe at home, and can refer patients needing emergency treatment to emergency rooms. This approach minimizes exposure to viral pathogens for healthcare providers and many patients.
Telehealth is being used in 3 beneficial ways during the coronavirus crisis:
Physicians are screening patients remotely to minimize in-patient consultations and, thus, unnecessary exposures.

Telehealth technologies enable routine care for patients with chronic ailments that are at higher risk of developing complications if they contract the virus.

Digital technologies enable quarantined healthcare providers to continue consulting with patients using remote feeds.
4 Apps and Devices Are Facilitating Telemedicine Today:
1. Online Patient Web Portals
Online patient web portals were once reserved for large hospitals but are now an essential telehealth tool for small facilities and private practices as well. The portal encourages better physician-patient relations and provides patients more engagement in their treatment. They can check lab results, update insurance information, and request prescription refills.
Today, online patient web portals are a critical telehealth tool that enable health caregivers to adhere to social distancing regulations. Patients can consult physicians via an online messaging system, often eliminating the need for scheduling in-patient appointments. Also, doctors can keep office appointments open for those patients who need immediate medical care or in-person diagnoses.
2. Video Chat Options
A range of video chat options are available to facilitate communication between patients and physicians. Options especially designed for telehealth consultations include thera-LINK, VSee, and Amazon Chime. Physicians can also use Zoom, FaceTime, and Skype. Most of these communication channels provide privacy and security during conversations.
Patients who already have a general practioner or regular healthcare provider may already have a telehealth system established, so they only need to check-in with their regular care team. For those who don't have a primary care physician, other telemedicine platforms like Amwell, Doctor on Demand, and Teladoc come in handy if the patient needs urgent care.
All online chat and video platforms used for medical consultatons should adhere to HITECH (Health Information Technology for Economic and Clinic Health Act) and HIPAA (Health Insurance Portability and Accountability Act) regulations and provide end-to-end encryption, which promotes privacy.
HIPAA restricts access to personal health information, including when it's processed on a digital platform. HITECH enforces HIPAA's privacy regulations and encourages the use of electronic medical records (EMR).
3. Remote Blood Collection Devices and Kits
With more people testing positive for COVID-19, healthcare institutions have found the use of remote sampling devices can help them provide lab testing for people while also minimizing their exposure risk. One such tool is the Mitra® microsampling device and Mitra At-Home Blood Collection Kit that allows patients to draw blood at home and mail in the samples.
With remote patient monitoring, patients don't have to visit a clinic or lab for a blood draw or testing. Nor do they need to return to the clinic or lab to collect their results. Clinics and labs can ship the devices and kits directly to patients. Barcodes are added to the device and/or kit, which makes it easy to track each patient's blood sample from collection to processing in the lab, to delivering test results to the care provider or clinic. Additionally, Mitra's Blood Collection Kits can be customized with the clinic's logo or brand so the patient knows who sent it.
4. Private Emails & Apps
Private emails are another viable communication tool between doctors and patients. This channel allows physicians to schedule video consultations and send lab results to patients. Private emails also provide a secure channel for doctors to offer recommendations for facilitating recovery.
More digital health apps have been developed to help collect diagnostic data without requiring a visit to the hospital. Tel Aviv-based Healthy.io, is a company that develops apps to enable smartphone cameras to provide a diagnosis of a patient's urine.
An Australian-based company, ResApp Health, develops applications that use smartphones to record and transmit the diagnosis of a cough. Such applications eliminate the need for patients to go for in-clinic consultation.
As more physicians, clinics and hospitals adopt and embrace telehealth during the coronavirus pandemic, they are learning how effective these virtual care pathways can be. We can anticipate that in the coming weeks and months, more digital apps that can be paired with remote medical devices and virtual communication channels are likely to be developed. We can also anticipate that telehealth will remain popular in a post-coronavirus world.
To learn more about remote, at-home collection kits, click below: