at-home blood collection kits can reduce trauma for young patients
by Neoteryx | 2 min read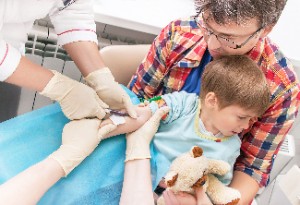 Some young patients are subjected to a lot of blood tests. A solution to lowering the fear factor for these kids is Mitra® at-home blood collection kits. This patient-centered approach is advantageous to children undergoing routine patient monitoring, and also to the medical professionals who normally draw their blood in the lab or clinic.
How Kids Can Benefit From At-Home Blood Collection Kits
We are living in an age when "superbugs" have become the new normal. Today we are facing the coronavirus pandemic, but tomorrow we might be facing another threat to our health and well-being. There is a need to anticipate future pandemics and adapt our healthcare approaches to protect our most vulnerable. Remote blood collection is a great option for protecting both patients and healthcare providers from exposure to contagions. It ensures minimal contact and also reduces trauma for kids who dread visiting a lab or clinic for a "poke in the arm."
Pediatric Patients Who Undergo Frequent Blood Draws
Some pediatric patients require more frequent blood draws than others. Kids who have received kidney transplants, for example, require constant monitoring to see if the immunosuppressant medication they must take is working. When at-home blood collection is offered as part of the care plan, these patients can be monitored remotely without booking as many in-clinic appointments with their providers.
With Mitra® Blood Collection Kits from Neoteryx, the majority of blood draws don't have to take place in the lab or clinic. Kids and their families can collect blood samples at home and send them to their doctors or a designated lab. Since Mitra devices use a simple finger-stick method with a lancet to collect a drop or two of blood, no phlebotomist is needed. Kits also include simple instructions that a parent, family member or older child can follow. This is especially beneficial for kids with kidney disease, blood cancer or other chronic issues that require frequent blood tests and healthcare visits.
Venipuncture vs. Finger-Stick Blood Draws
Venipuncture, where a trained phlebotomist pokes a vein in the arm to draw blood into tubes, can be painful and stressful. This is especially true for patients requiring numerous and frequent blood draws. Children often fear these visits, which can be stressful for parents, guardians, and caregivers.
When youngsters learn that home kits require just a few drops of blood from the end of their finger, the situation is no longer traumatizing. Children are more comfortable with parents managing the blood collection process in a familiar environment.
Venipuncture is still in favor for full-panel blood draws, but is logistically challenging and expensive. At-home blood samples using Mitra are a reliable alternative that can be shipped via regular mail from anywhere in the world.
Patient-Friendly and Lab-Ready
Mitra devices are based on volumetric absorptive microsampling (VAMS®) technology, which absorbs a scientifically precise volume of blood on the device tip. Mitra blood samples can be sealed up in the enclosed bag for mailing directly to the lab. Once in the lab, the now-dried blood sample on the device tip provides the volume of blood needed for analysis. The Mitra is compatible with standard lab equipment, too, so lab testing is quick and easy. Both patients and labs are comfortable using this more modern (and less traumatic) approach to blood collection, making it an ideal health and science adaptation in a post-coronavirus world.