pediatric telemedicine: smarter healthcare, stronger families
by Neoteryx | 2 min read
The telegraph and the telephone were the precursors of modern telemedicine. Doctors could talk to each other over long distances. The space program made great advances in the technology over even greater distances. Then along came the internet and telemedicine was up and running.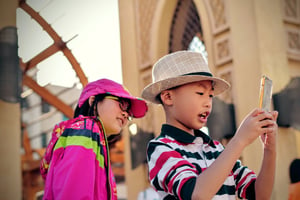 Now doctors in Mozambique can reach out to their colleagues in Chicago and discuss cases. They can present patients, lab reports, X-rays, EKGs, and pathology slides. Doctors can evaluate sick children at a remote school or clinic or even a prison facility.
But telemedicine is not limited to acute care. There are many applications:
Management of chronic medical and surgical problems. After an initial evaluation, patients can use telemedicine technology to follow-up with their doctor.
Consultation. The attending physician can confer with experts around the world for help in both acute and chronic problems.
Education. Doctors can attend conferences without the expense of travel, enabling them to keep up to date.
Practice. The physician can "see" his or her patients at times when they are unable to come to the office.
Research. The boon to medical research is enormous. Patients can be reached a continent away from the research center, greatly increasing the number of people available for studies.
Patient education. The technology enables medical professionals to help patients and parents understand their problems and the treatment. In chronic care telemedicine is extremely useful, making it easier to assess the patient's progress as well as his or her grasp of self-care.
The patient and family also benefit greatly.
Travel: Distances can be as great as a hundred miles or more.
Time: Parents and caregivers often have to take off from work in order to take the child to the doctor.
Comfort: Children are much more comfortable in their own home or school and more likely to cooperate.
In conjunction with increasingly sophisticated telemedicine, remote pediatric blood collection is helping to make healthcare available to people all around the globe. Using microsampling technology, blood can be drawn at home and mailed to the doctor or research center. The microsampling technique is much less stressful for children, especially when done at home.
Pediatric illnesses and conditions are disturbing to children and their families. Telemedicine and remote sampling help keep families strong by limiting stress and being available quickly without taking up time and losing income. Telemedicine is reinventing the house call.