vet diagnostics: a brief introduction to key issues
by Neoteryx | 2 min read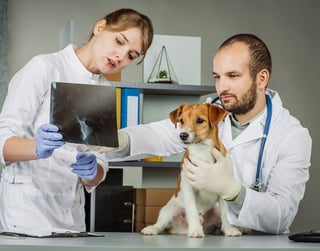 The practice of vet diagnostics has come of age. It's a field that is growing tremendously, fueled by the need to control and prevent diseases and to better understand the creatures we depend on. Data from millions of animal fluids and tissue samples helps create drugs and vaccines, restrict animal movement, formulate policy on nutrition, and inform the body of knowledge.
The vet laboratory provides a safe place for medical testing of infectious toxins or agents in animal diagnostic samples. Veterinary professionals representing public officials related to wildlife management or public health, animal owners, and scientists submit these samples for analysis. Special testing centers include molecular, bacteriology, Health Assurance Testing Services (HATS), pathology, toxicology/nutrition, and virology laboratories.
Vet Devices
The FDA defines veterinary devices as instruments, apparatuses, or accessories used for diagnosis of diseases. Vet devices include diagnostic test kits, syringes, needles, surgical instruments, X-ray equipment, prosthetic devices, and dental appliances.
Veterinary Diagnostic Test Kits
State and federal authorities use these kits to regulate animal movement. Test kits on the market include kits for activated clotting time in dogs and cats, parasite detection system, urine testing, refrigerated veterinary diagnostic test kits with up to two years' shelf life, and non-refrigerated test kits with up to 18 months' shelf life.
Zoonoses in Companion Animals
Animals such as cats and dogs can carry diseases that infect humans. Zoonoses infects humans through touch or is vector transmitted via fleas, mosquitoes, ticks, and flies. Alternatively, humans can infect companion animals. Therefore, carrying out routine testing for companion animals during clinical visits is critical.
Vet Diagnostics Market
The market is expected to grow by 9.3%, from $2.31B in 2017 to reach $3.62B by 2022. Rising animal population, pet adoption, animal healthcare expenditure, growing animal food demand, rising awareness about diseases, and the increase of vet professionals have propelled significant growth.
How Microsampling Fits In
There is a growing population of livestock and adoption of companion animals across North America and Europe. The analysis of tissues samples, blood, or urine helps keep track of animal diseases and prescribe drugs and vaccines. Modern veterinary diagnostic test kits are accurate and easy to track.
The 3 R's of animal research-compliant Mitra microsampling device collects tiny amounts of blood that are enough for testing. You can take samples anywhere without causing undue stress to animals. Based on Volumetric Absorptive Microsampling (VAMS™) technology, this device represents a new frontier in sample collection from livestock and companion animals, and it is set to become a standard component in testing kits.