how veterinary diagnostic labs are supporting human COVID-19 testing
by Neoteryx | 3 min read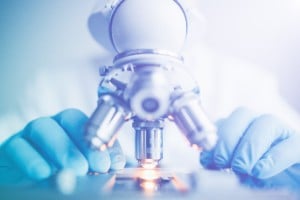 The number of people that need to be tested for COVID-19 continues to overwhelm public health facilities and laboratories that perform testing. Veterinary diagnostic laboratories with adequate staff and infrastructure are pivoting to support other labs and healthcare systems by conducting tests on human blood samples for COVID-19 illness.
Their help couldn't have come at a better time and vet labs have moved quickly to help with the testing process. According to the COVID Tracking Project, the U.S. had conducted only 27,157 tests as of March 12, 2020. Many public health labs lacked the technology to perform high-throughput nucleic acid extraction. After engaging veterinary diagnostic test centers to help, it is estimated that the COVID-19 testing figures increased to 2.8 million by April 12, and to 7 million by May 3, 2020.
Do Veterinary Diagnostic Labs Have the Capacity to Perform Human Tests?
While veterinary diagnostic labs are primarily equipped to perform animal tests, many of them also have the infrastructure to perform COVID-19 testing for humans. Both human and veterinary laboratories rely on two tools: a real-time PCR testing machine and the nucleic acid extraction instrument.
The possibility of using veterinary labs for novel coronavirus testing was considered after Iowa State veterinary lab found that the COVID-19 virus has a similar DNA testing process to porcine epidemic diarrhea virus (PED). PED is another form of coronavirus that killed many piglets in 2013 and was unresponsive to treatment. Many vet labs optimized their equipment and processes to test for PED, which helped them determine that older pigs could recover and develop immunity against the virus. Those same labs are still set up for coronavirus testing.
Vet labs are equipped to respond to disease outbreaks regularly. Similar processes and technology required to perform animal disease testing animal studies also apply to human disease testing. For example, the CSU Veterinary Diagnostic Lab has a biosafety level 3 facility for testing viruses and bacteria.
The facility has a high-throughput testing machine that can test 96 samples at a time, several times a day. It also is equipped to perform the real-time PCR diagnostic test that detects the presence of the SARS-Cov-2 virus.
How Are Veterinary Diagnostic Labs Testing for COVID-19?
Two tests have been developed to detect COVID-19:
1. The molecular diagnostic test performed on mucus or saliva samples that is used to detect the presence of active virus indicating a current COVID-19 infection, and;
2. The serologic test performed on blood samples that is used to evaluate a person's immune response to the virus through the presence of raised SARS-CoV-2 antibodies. The presence of antibodies would indicate a previous exposure or COVID-19 illness, from which a person recovered.
Veterinary diagnostic labs are accepting nasopharyngeal swabs to perform molecular diagnostic tests to determine the presence of viral genetic material in a sample. Mucus and saliva samples are collected from places in the body with potential for a high virus concentration (i.e., the nose or mouth). The RT-PCR test is then performed repeatedly until a fluorescent signal reaches a threshold showing the result is positive.
Blood samples, which can be collected remotely using a Mitra® Collection Kit and shipped to a lab, are processed as dried blood samples. Blood samples are used for serologic tests that are performed once a patient recovers from COVID-19 illness to determine the presence of SARS-CoV-2 antibodies.
Studies show most patients develop antibodies 7-11 days after exposure to the virus, but some develop them sooner. Since the scientific community still has limited understanding of the novel coronavirus and all the ways in which it is transmitted, safe blood and specimen collection techniques are required. Remote blood collection using Mitra microsampling devices based on volumetric absorptive microsampling (VAMS) technology are being deployed to patients who must stay safe at home. At-home Mitra Collection Kits include instructions and supplies, and easy-to-use remote Mitra devices. These devices are an advancement on the dried blood spot (DBS) technique for blood sample processing in the lab.
Physicians, clinics, researchers and labs can ship out home blood collection kits via mail. Patients can use a simple finger-stick method with a lancet to collect a drop or two of blood on a Mitra® device from their fingertip. They follow instructions to pack up the blood sample and mail it back for testing.
Do Veterinary Diagnostic Labs Have the Necessary Certification?
Veterinary labs have the necessary infrastructure to test for COVID-19, but they are not necessarily certified to perform human tests. They need a Clinical Laboratory Improvement Amendments (CLIA) certification to perform the tests.
To work around this issue, many veterinary labs have formed partnerships with human healthcare laboratories. For example, the CSU Veterinary Diagnostic Laboratory formed a partnership with CSU's Health and Medical Center, which already operates a CLIA-certified lab.
Other veterinary laboratories, like the Oklahoma Animal Disease Diagnostic Lab have obtained certification from the FDA, CDC, and the U.S. Department of Agriculture in charge of animal diagnostic labs.
It is hoped that veterinary labs and healthcare systems will continue working together in this way to help the U.S. reach its goal of testing all citizens for COVID-19 illness and SARS-CoV-2 raised antibodies.