global clinical trials: best practices
by Neoteryx on Oct 1, 2019 7:52:01 AM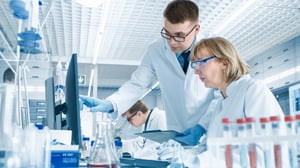 Multinational clinical trials are essential for the efficient provision of generalizable information to both medical and scientific fields. International trials involving several countries are especially vital for rare diseases. They allow for accelerated patient accruals and increased applicability of the research findings.
International trials, especially when conducted in developing countries, lead to stronger healthcare systems in emerging economies. External funding has the potential of advancing the research capacities of sites in developing nations.
For such a global clinical trial to proceed effectively, you have to foster great relations with all the relevant stakeholders. This includes the sponsors, patients or volunteers, your team, and the policymakers at the national level. The following best practices should be put in place:
Compliance with all essential regulations
You will be faced with numerous schedules and overlaps, leading to an imminent risk of schedule slippage. You should have a clear project plan that outlines and guides all the approval processes.
Seamless information flow and governance
Lack of communication between teams can elicit numerous problems when departments operate independently. You should have a communication plan that allows vendors, sponsors, and other departments to collaborate effectively.
Fast start
Delayed availability of the final protocol can significantly halt patient recruitment. Ensure transparency and actively plan for delays to allow for proper engagement and easy adaptation to change.
Proper budgeting
Clinical trials can be uncertain, turning your budgeting process into a guessing game. If you have efficient change management, the potential risks will be minimal.
Ensuring smooth staff workflows
Inefficient staffing will cause delays, quality bottlenecks, and other delivery shortcomings. You should map and integrate all key processes to clearly define essential data and metrics.
It all boils down to effective business operations
Clinical research is more important all the time, and today's competition for results is strong. You have to optimize your operations for enhanced research sustainability. One way is to embrace microsampling.
Microsampling is an alternative to traditional sampling methods. Your patients will love the new VAMS system because it allows them to save both time and money. Numerous global researchers have embraced this system because of the seamless transportation of samples and smooth dataflow. You can get lots of accurate data from small blood amounts, which can keep patients engaged in the program. This system is a true upgrade for your research.
Receive Blog Notifications