digital clinical trials: telehealth and the high-tech future
by Neoteryx | 2 min read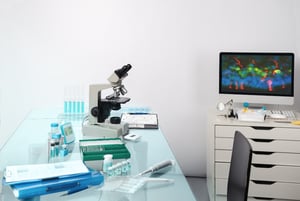 Have you ever been asked to participate in a clinical trial for a new drug or medical device? Have you turned down such an offer because it seemed like too much trouble? Extra doctor's appointments, lost hours at work, trips to the lab for bloodwork or urinalysis, keeping a diary… perhaps it doesn't seem to be worth the effort.
What if you could take part in a clinical study and never have to leave home? What if the doctors came to you? What if your role in the labwork consisted of a quick finger-stick that you could do at home and mail? Would you be more interested in participating in that sort of clinical trial?
Clinical trials are changing. Patients are benefiting.
With the advent of electronic medical records, data acquisition has become easier. Finding large numbers of patients for clinical studies improves the results of the studies.
Technology has provided the means to bring the doctor to you. Telehealth is communication between doctors and patients via computer. You talk to the doctor while still in your home. Telecommunication has been connecting doctors to patients who live in remote places and cannot come to a center for evaluation. Now it allows for site-less clinical trials. Doctors and patients can be scattered all around the world.
Smartphones are everywhere. Patients can use their own phones and download special apps to take part in the trials. Data can be sent via the app and shared with the researchers instantly.
Home blood sampling and remote patient monitoring is making life easier for a lot of patients. Instead of going to the lab and having a technician draw 10

μl

of blood, patients can use a lancet to prick a finger for one drop of blood. This microsampling is mostly painless and a great deal more convenient for the patient. The blood is collected with a kit and mailed in.
Clinical trials are essential to the development of new drugs and devices. It can improve the health of future generations. Until now, being a participant in a clinical study was time-consuming, inconvenient and sometimes painful. Digital clinical trials and virtual clinical trials are the high-tech future of medical research, already in progress.