8 steps to implement a telemedicine program
by Neoteryx | 2 min read
Telemedicine involves providing healthcare services to patients remotely using telecommunication tools like smartphones and computers. Leveraging advances in patient monitoring and smarter healthcare, it has the potential to minimize or eliminate traditional healthcare challenges. However, its implementation requires a well-thought-out plan.
The following is a guideline on how to implement a telemedicine program:

1. Establish a strategy and set goals
Clearly define your reasons for establishing the telemedicine program and set measurable goals. Identify the key metrics you will consider to evaluate your program's success.
2. Gather a cross-functional team
Your telemedicine program might involve several providers, staff, and even services from other businesses. A designated implementation team with a capable leader can help to ensure the desired progress.
3. Check essential rules, protocols, and reimbursement
As telemedicine continues to gain popularity, authorities progressively introduce laws and regulations to prevent its improper exploitation. The policies vary by state, and you should check with local authorities to maintain compliance.
4. Partner with reliable technology companies
The technology you use has a significant role to play in the success of your program. Consider its security, ease-of-use, integration, branding, and reimbursement authentication.
5. Design a strategy to maximize the program's uptake
Your telemedicine program won't get far if no one participates. Educate your staff and patients about its benefits and when and how it will come into play.
6. Completely integrate and implement technology
This could be the easiest part; you can rely on cloud-based solutions that integrate with your program.
7. Encourage feedback from patients and staff
Your patients and staff are an important source of feedback about the program's success. They can help you to identify bottlenecks that you should work on to ensure improved services.
8. Measure performance frequently against goals and act accordingly
Evaluate your goals occasionally to ensure you are achieving the results you prioritized. If you are lagging, consider the adjustments you need to make and make them promptly.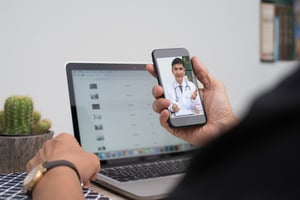 Volumetric Absorptive Microsampling (VAMS®) technology from Neoteryx is one key to the success of some forward-thinking telemedicine programs. It allows patients to take dried blood samples in the comfort of their homes and send them elsewhere for bioanalytical analysis, without the use of cold chain or biohazard shipping containers.
VAMS®-driven solutions promote improved patient outcomes and cooperation, potentially leading to highly-successful treatment plans. Numerous global healthcare organizations are already incorporating dried blood microsampling into their clinical care. It's a safe, cost-effective, accessible, and convenient boost your healthcare program.