applications of remote patient monitoring with 4 medical conditions
by Neoteryx | 4 min read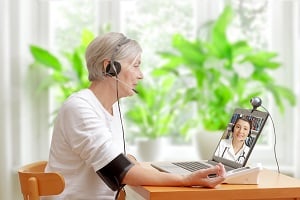 Continuous care and monitoring of many medical conditions and chronic illnesses is critical to helping patients manage a health issue, maintain optimal wellness and avoid complications. Close and routine monitoring enables physicians to understand the progression of an illness and quickly identify worrying symptoms, behavioral trends, and biometric readings that require follow-up.
Generally, a patient's care team provides monitoring and support through scheduled follow-up visits and check-ins. However, as the coronoavirus pandemic continues and health facilities minimize inpatient visits, chronic illness patients and those undergoing drug therapy find themselves isolated and compelled to monitor their conditions on their own.
Remote Patient Monitoring Chronic Disease Management Can Prevent Gaps in Care
Remote patient monitoring (RPM) is a solution that can fill care gaps for chronic illness and drug therapy patients who are unable to make in-clinic visits. RPM enables care providers to manage and monitor patients with many conditions remotely via virtual channels—phone, email, video consults, remote methods of specimen collection, portable medical devices, home health kits—while patients remain safely at home.
Patients can be provided wireless home medical devices, such as a weighing scale or a blood pressure monitor and a mobile phone or other device for data collection. The medical data or measurements are automatically sent to the mobile device and transmitted to the hospital's data server for analysis. These systems send alerts to the doctor and the patient if the measurements are out of normal range.
If a patient requires therapeutic drug monitoring (TDM) to track the drug concentration levels in their blood, the care team will require blood samples taken at specific intervals. Remote blood collection is now possible with portable devices and in home healthcare kits, such as the Mitra® microsampler or the Mitra® Blood Collection Kit. Doctors can ship these out to patients, who can then ship their self-collected samples through the mail directly to a designated lab for testing. The lab results go into the patient's medical records in the system for access by the care provider, who can follow up with the patient via phone/video consult to discuss any drug dosage changes.
When used with virtual check-ins, RPM can replace the inpatient visits that were previously required to adjust and manage treatment.
Before considering which chronic illnesses or patient populations can be managed through remote patient monitoring, here's a brief overview of what RPM is about and its benefits:
What is Remote Patient Monitoring, or RPM?
RPM is a subcategory of telehealth. It's designed to provide real-time transmission of physiological measurements (heart rate, weight, blood pressure, and other vital signs) to enhance clinical support via virtual channels and self-management of patients. Through the use of technology and portable devices, physicians can monitor the health status of patients and adjust treatment regimens without in-person clinic visits.
Remote patient monitoring allows physicians to:
Adjust medication dosing or treatment regularly to improve outcomes

Automate and respond to alerts while identifying worrisome trends or readings

Minimize associated hospitalizations by performing timely interventions as soon as message alerts indicate a problem

Monitor a patient's progress and adherence to the treatment program

Prioritize attention and resources on patients that need more support

Provide a holistic and comprehensive outlook of an individual's health

Reduce manual data collection and data entry, providing more for data analysis to improve clinical decisions

Understand a patient's biometrics relative to lifestyle behavior and prescriptions
The primary goal of RPM is to ensure that care delivery for patients undergoing longterm therapy or managing a chronic illness is effective and affordable, even if access has shifted from an in-clinic care model to a remote care model. RPM can keep people who don't require acute care out of clinics, thus reducing the risk of spreading or catching COVID-19, or other contagions.
Medical conditions that can be managed through RPM include:
1.
Diabetes
Routine blood glucose testing is a critical aspect of diabetes care. Doctors require diabetic patients to visit the clinic every 3-6 months, typically to measure their HbA1c. Diabetic patients can self-test their blood glucose on a daily basis at home with a fingerstick method, test strips and portable glucose meters that store the glucose readings. These daily blood glucose readings are stored in the glucose meter, and the data can be shared with the care team remotely or during follow-up clinic visits. Monitoring diabetic patients remotely enables physicians to provide more personalized care because they can quickly respond to real-time data.
RPM also encourages patients with diabetes to be more responsible about their health, and how much it is affected by diet and exercise. For example, patients can assess and understand post-meal readings, which can inform how they might need to modify their meals to improve their glucose levels. A review of the impact of using telehealth interventions for monitoring diabetes found that RPM led to a small but significant improvement in HbA1c levels compared with "regular" care.
2. Dementia
RPM technological devices can be used to promote safety. Dementia patients often experience falls. Doctors use RPM sensors or assertive mobility devices like walkers and canes to monitor the patient's linear acceleration, gait, angular velocity, and mathematical algorithm to predict the likelihood of falls. The devices are equipped with tracking capabilities (GPS, wifi, or radiofrequency) to help caregivers locate lost seniors.
3. Heart Disease
RPM has proven beneficial in helping patients to maintain heart health. Cardiologists now use high-tech tools like wearable heart monitors linked to smartphones to better monitor patients with chronic heart conditions.
A 2015 report found that more than 50% of 110 million patient interactions happened through videoconferencing and smartphones, among other RPM devices. The devices chart the patient's heart electrical activity when working, sleeping, or exercising. These data give the doctor a more comprehensive outlook of a patient's health over time, as opposed to the one-time results of an ECG administered in-clinic.
4. Infertility
Remote patient monitoring has also proved successful among patients who have difficulty conceiving. A study involving a six-month remote monitoring program found patients had the same pregnancy rate as those using in-vitro fertilization (IVF).
This study showed that RPM can provide significant cost savings compared to in-clinic IVF programs. The remote monitoring product and service in the study cost $800, while the average cost of an IVF cycle is $15,000. That's a significant reduction in the cost of care for the same outcome.
Some other conditions that can be monitored via RPM include organ transplants, kidney disease, and mood disorders, among others. This list is expected to grow as more healthcare providers onboard technologies and devices that enable virtual care pathways.